Thanks for the update and the great work of yours.
Is the Multichannel LPCM fix also included ?
I just read the release notes carefully and also found the info.
Thanks again!!
So now its gone to stable will it stay there?, or how do we continue nightly?
Nightlies will be on pause for a couple of weeks because we are in the process of moving to a new kernel to add support for S905D3/S905X3 devices, this kernel will be highly experimental for a period of time so this is why we have set nightlies to update to stable at this time so there is no inconvenience to users.
You are free to flash a nightly release again in the future when they start again.
That brilliant, ill stay here for a bit and make a SD also.
@adamg what is green screen issue fixed? Picture artiffacts on interlaced videos? Or something else I haven't seen?
You will know if you are affected by this issue as the whole screen goes shades of screen.
Thanks for the update guys.
Where do I find the 4K GUI scaling toggle for G12 devices setting, after the update I have zoomed in GUI on my N2 running at 2160p.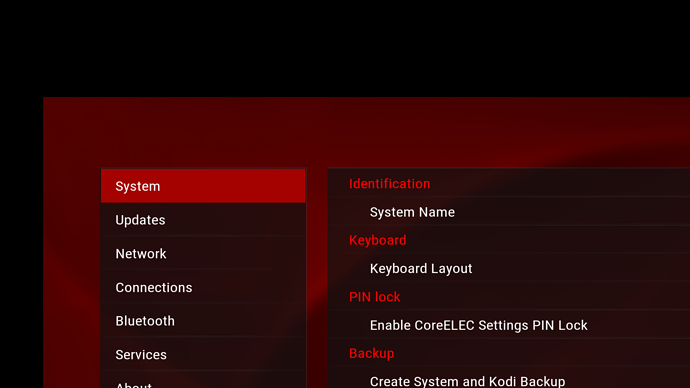 You need to reset your screen calibration.
The scaling option is available under Settings>System>CoreELEC.
Thanks @adamg, I'm a little confused about this so to have it as before the update, I have disabled GUI scaling and set the video calibration, does that sounds right?
I'm getting problems with Bluetooth audio. Tested with Redmi Airdots. Sound is jerky and bad. Any workaround? Also troubles to connect, after 4 times "host is down" error messages it worked, but now again I'm unable to connect
Tanix tx3 mini remote stop working after update, any solution?
thank you
It's a great update. Scaling works great. CEC fixed, now no longer jumps.
Thank you for the excellent work, the combination of Denon 4500h, LG 65C9 and CoreELEC on odroid n2 has become almost perfect
There is a lot of Xiaomi Redmi AirDots around that have the same issue, guaranteed fake if you bought from Gearbest.
SMB into the mini and paste this remote.conf file to the .config folder of your mini.
REBOOT.
remote.conf (3.2 KB)
Ignore this post:
Update broke access to my samba shares, mounted with cifs mount script.

Device is Tanix TX5 Pro. Anyone knows how to fix it, or how to go back to previous version of CoreELEC?
Putting a tar from an older version into your update folder, should let you roll back.