All good now. Installed a couple of random addons to check. Thanks.
Nightly builds for S912, there is no more?
The next nightly will be available for S912 again.
A Kodi patch messed up the S912 build, which was fixed by Ray, today.
Yes, there is and in the tutorial it says "Beginners should only install stable releases. Beta and nightly releases are for those that can live with errors, are able to troubleshoot them and participate in fixing them."
We used the commands from the pdf file here:

Work done successful
We tested the main commands of the original remote control below are the files
All working now on my KI Pro mecool
Thank you those who would rather help!
Thanks @menotu
can be used in Coreelec and Libreelec
mecool.zip (1,2 KB)
now I could update from 20181127 to 20181128, download is very fast from the new server (27MByte/s).
But:
It is no problem, but a little bit confusing: there are 4 lines with the same version number in the window 'Available Versions', see attached picture. With the old server there was only one line. My device is a Beelink Mini MXIII II (S905X/2GB/32GB SD)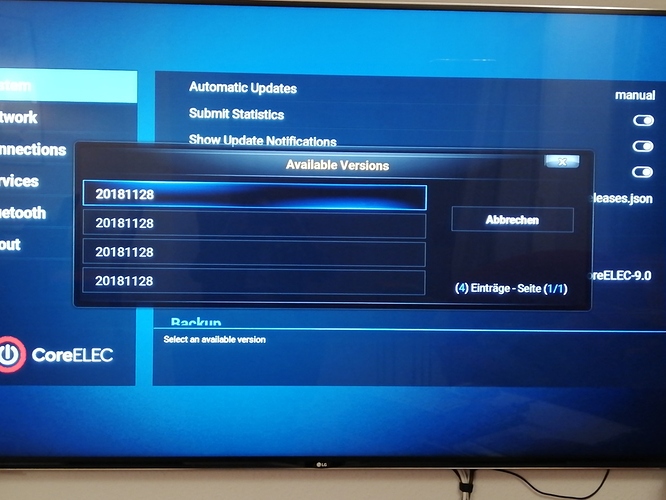 just renamed it, to mecool k1 pro & uploaded to the portal.
This is a known issue and has nothing to do with the move to the new server.
The build system was reworked, which causes the json file to list the same update tar file several times.
I will work on a solution during the upcoming weekend.
Until a proper solution is implemented, you can just choose the topmost selection to update your box to the newest version.
That's just a cosmetic issue. You can use whatever tar you find in there. Just click at one of there and it will be fine.
yes, it is cosmetic. update works fine, thanks.
@TheCoolest
Just to let you know that on Nightly 20181130 the issue that I and many users from Alfa community had with the library is solved on this version.
Thanks to CE team!
Nightly 20181130 on an A905x (S905) develops a lot of lag/skipping when playing video encoded with WMA2 at 320x240. The same file plays back without skipping on my PC and tablet using VLC.
I am able to play back 1080p x.264 without any issues from the same storage device on my A905x.
Did it work properly in 20181129 (still available in archive) or on the latest stable 8.95.5?
Could you please provide a debug log and maybe a sample file (I don't have any WMA2 encoded files)?
Is the binary addons repo used for the Nightly builds any closer to being up to date than the normal release channel? It is very difficult to test anything PVR related when the addons are several releases behind.
Yes, the binary addons are more up to date than in the stable repo.
Due to the nature of nightly builds (the same goes for the addons), you should expect things to break or not working as stable as expected.
Why in the latest nightly builds is no tar file for odroid c2