I have been running Minix U9-H with CE 9.0.2 without any problems, yesterday I upgraded to 9.2.1 and observed a video corruption whenever I change the resolution in Kodi.
Here is the example: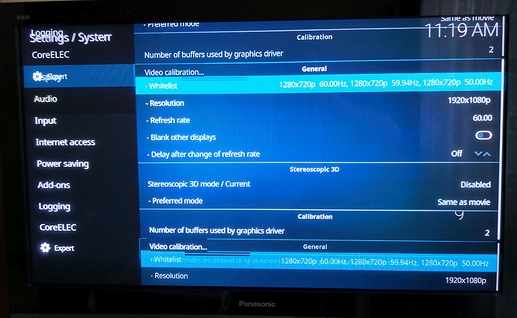 This happens anytime the resolution changes, in the image above I had originally the Kodi res set to 1280x720p and changed it in the settings to 1920x1080p.
I had originally also all 1920x1080p@(23.975, 24, 50, 60) whitelisted, but whenever Kodi switched to the any of those resolutions it led to the same corruption.
This also happens when I had 1920x1080p set in Kodi and changed the res to 1280x720p, etc. It seems I can "fix" it by rebooting the box with the new resolution set then after the reboot the new one behaves fine, but any one different I would changed to later exhibits the same symptoms.
This did not happen with CE 9.0.2, so I wonder what might have changed to cause this and if I could fix it somehow.
The TV is an old Panasonic with the native 720p panel (HD Ready :)), which however supports all the resolutions up to 1920x1080p@60Hz fine (or did until now).