Hi all,
I bought two T230C DVB-C MyGica adapters and i can't make it work.
I was trying 2 different OS ( Coreelec and Libreelec).
Tvheadend recognizes the adapter on both when I'm using crazycat driver, everything looks ok.
when I'm trying to scan I'm getting: failed.
on a windows machine with the supplied software it is working, so it's not a hardware problem.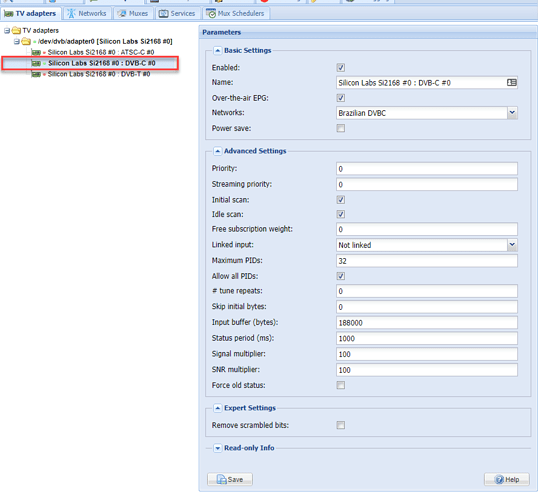 2020-08-11 22:06:57.308 mpegts: 201MHz in Brazilian DVBC - tuning on Silicon Labs Si2168 #0 : DVB-C #0
2020-08-11 22:06:57.308 subscription: 000B: "scan" subscribing to mux "201MHz", weight: 6, adapter: "Silicon Labs Si2168 #0 : DVB-C #0", network: "Brazilian DVBC", service: "Raw PID Subscription"
2020-08-11 22:07:01.318 linuxdvb: Unhandled ERROR_BLOCK_COUNT scale: 0
2020-08-11 22:07:02.308 mpegts: 201MHz in Brazilian DVBC - scan no data, failed
2020-08-11 22:07:02.308 subscription: 000B: "scan" unsubscribing
2020-08-11 22:07:02.308 mpegts: 183MHz in Brazilian DVBC - tuning on Silicon Labs Si2168 #0 : DVB-C #0
2020-08-11 22:07:02.308 subscription: 000D: "scan" subscribing to mux "183MHz", weight: 6, adapter: "Silicon Labs Si2168 #0 : DVB-C #0", network: "Brazilian DVBC", service: "Raw PID Subscription"
2020-08-11 22:07:07.308 mpegts: 183MHz in Brazilian DVBC - scan no data, failed
2020-08-11 22:07:07.308 subscription: 000D: "scan" unsubscribing

Original crazycat files:
dvb-demod-si2168-b40-01.fw (15.5 KB) dvb-demod-si2168-d60-01.fw (10.6 KB)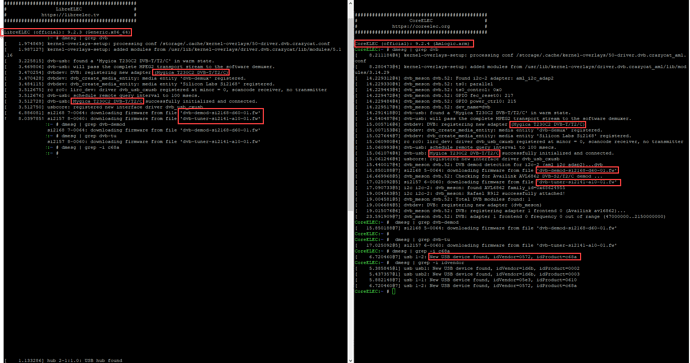 Resume dmesg
dvb-usb: found a 'Mygica T230C2 DVB-T/T2/C' in warm state.
si2168 5-0064: downloading firmware from file 'dvb-demod-si2168-d60-01.fw'
si2157 6-0060: downloading firmware from file 'dvb-tuner-si2141-a10-01.fw'
usb 1-2: New USB device found, idVendor=0572, idProduct=c68a
COREELEC OS
##############################################
#                  CoreELEC                  #
#            https://coreelec.org            #
##############################################

    CoreELEC (official): 9.2.4 (Amlogic.arm)
    CoreELEC:~ # dmesg | grep dvb
    [    8.211184@4] kernel-overlays-setup: processing conf /storage/.cache/kernel-overlays/50-driver.dvb.crazycat_aml.nf
    [    8.280473@4] kernel-overlays-setup: added modules from /usr/lib/kernel-overlays/driver.dvb.crazycat_aml/lib/modes/3.14.29
    [   14.229312@4] dvb_meson dvb.52: Found i2c-2 adapter: aml_i2c_adap2
    [   14.229330@4] dvb_meson dvb.52: ts0: parallel
    [   14.229443@4] dvb_meson dvb.52: ts0_control: 0x0
    [   14.229472@4] dvb_meson dvb.52: GPIO fec_reset0: 217
    [   14.229484@4] dvb_meson dvb.52: GPIO power_ctrl0: 215
    [   14.229517@4] dvb_meson dvb.52: dev_name=dvb
    [   14.291418@0] dvb-usb: found a 'Mygica T230C2 DVB-T/T2/C' in warm state.
    [   14.540487@6] dvb-usb: will pass the complete MPEG2 transport stream to the software demuxer.
    [   15.005716@6] dvbdev: DVB: registering new adapter (Mygica T230C2 DVB-T/T2/C)
    [   15.007153@6] dvbdev: dvb_create_media_entity: media entity 'dvb-demux' registered.
    [   15.027644@7] dvbdev: dvb_create_media_entity: media entity 'Silicon Labs Si2168' registered.
    [   15.060980@4] rc rc0: lirc_dev: driver dvb_usb_cxusb registered at minor = 0, scancode receiver, no transmitter
    [   15.060993@4] dvb-usb: schedule remote query interval to 100 msecs.
    [   15.061074@4] dvb-usb: Mygica T230C2 DVB-T/T2/C successfully initialized and connected.
    [   15.061246@4] usbcore: registered new interface driver dvb_usb_cxusb
    [   15.440017@4] dvb_meson dvb.52: DVB demod detection for i2c-2 (aml_i2c_adap2)...dvb
    [   15.850188@7] si2168 5-0064: downloading firmware from file 'dvb-demod-si2168-d60-01.fw'
    [   16.669968@5] dvb_meson dvb.52: Checking for Availink AVL6862 DVB-S2/T2/C demod ...
    [   17.025092@5] si2157 6-0060: downloading firmware from file 'dvb-tuner-si2141-a10-01.fw'
    [   17.090733@5] i2c i2c-2: dvb_meson: found AVL6862 family_id=0x68624955
    [   19.004563@5] i2c i2c-2: dvb_meson: Rafael R912 successfully attached!
    [   19.004581@5] dvb_meson dvb.52: Total DVB modules found: 1
    [   19.006684@5] dvbdev: DVB: registering new adapter (dvb_meson)
    [   19.015076@6] dvb_meson dvb.52: DVB: registering adapter 1 frontend 0 (Availink avl6862)...
    [   23.591909@7] dvb_meson dvb.52: DVB: adapter 1 frontend 0 frequency 0 out of range (47000000..2150000000)
    CoreELEC:~ # dmesg | grep dvb-demod
    [   15.850188@7] si2168 5-0064: downloading firmware from file 'dvb-demod-si2168-d60-01.fw'
    CoreELEC:~ # dmesg | grep dvb-tune
    [   17.025092@5] si2157 6-0060: downloading firmware from file 'dvb-tuner-si2141-a10-01.fw'
    CoreELEC:~ # ^C
    CoreELEC:~ # dmesg | grep -i c68a
    [    6.720460@7] usb 1-2: New USB device found, idVendor=0572, idProduct=c68a

LIBREELEC OS X86 (Intel i5)
 ##############################################
    #                 LibreELEC                  #
    #            https://libreelec.tv            #
    ##############################################

    LibreELEC (official): 9.2.3 (Generic.x86_64)
    :~ # dmesg | grep dvb
    [    1.974869] kernel-overlays-setup: processing conf /storage/.cache/kernel-overlays/50-driver.dvb.crazycat.conf
    [    1.987127] kernel-overlays-setup: added modules from /usr/lib/kernel-overlays/driver.dvb.crazycat/lib/modules/5.1  .16
    [    3.225815] dvb-usb: found a 'Mygica T230C2 DVB-T/T2/C' in warm state.
    [    3.469806] dvb-usb: will pass the complete MPEG2 transport stream to the software demuxer.
    [    3.470254] dvbdev: DVB: registering new adapter (Mygica T230C2 DVB-T/T2/C)
    [    3.470428] dvbdev: dvb_create_media_entity: media entity 'dvb-demux' registered.
    [    3.484115] dvbdev: dvb_create_media_entity: media entity 'Silicon Labs Si2168' registered.
    [    3.512675] rc rc0: lirc_dev: driver dvb_usb_cxusb registered at minor = 0, scancode receiver, no transmitter
    [    3.512676] dvb-usb: schedule remote query interval to 100 msecs.
    [    3.512728] dvb-usb: Mygica T230C2 DVB-T/T2/C successfully initialized and connected.
    [    3.512750] usbcore: registered new interface driver dvb_usb_cxusb
    [    6.886081] si2168 7-0064: downloading firmware from file 'dvb-demod-si2168-d60-01.fw'
    [    8.039785] si2157 8-0060: downloading firmware from file 'dvb-tuner-si2141-a10-01.fw'
    :~ # dmesg | grep dvb-demod
    [    6.886081] si2168 7-0064: downloading firmware from file 'dvb-demod-si2168-d60-01.fw'
    :~ # dmesg | grep dvb-tu
    [    8.039785] si2157 8-0060: downloading firmware from file 'dvb-tuner-si2141-a10-01.fw'
    :~ # dmesg | grep -i c68a
    :~ #