You will need to pay attention to the hardkernel forum for any announcements of new devices from them.
Based on S905X3.
Copying from their forum:
Availability and price
ODROID-C4 is currently available for sale, and orders are being accepted. We will start shipping from 28 April.
4GB model: $50
https://www.hardkernel.com/shop/odroid-c4/
I hope other worldwide distributors will start selling soon.
@cdu13a any rumors about CoreElec edition?
Release notes CE 9.2.2
Changes since 9.2.1:
    Added support for Odroid C4
Nice. I hope that an Odroid C5 is released with an Amlogic S905X4 SoC as i really want AV1 hardware decoding to futureproof it.
I have meant hardware bundle, like N2 Coreelec edition.
Sorry, ODROID-C4 CoreELEC Edition is not planed yet.
I like the bigger power connector compared to this little one on Odroid C2! Really nice device! I would buy it for media but i already got an N2

This looks really sweet, going to have to get one to play around with.
Now that the official announcement has been made we can share some pictures of the whole HK family line-up that we support

.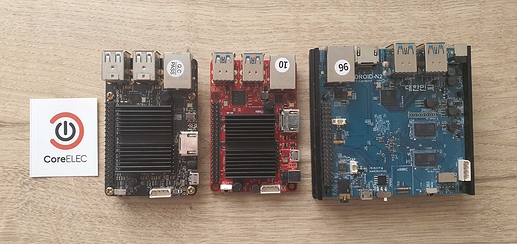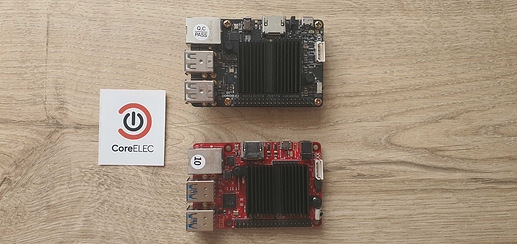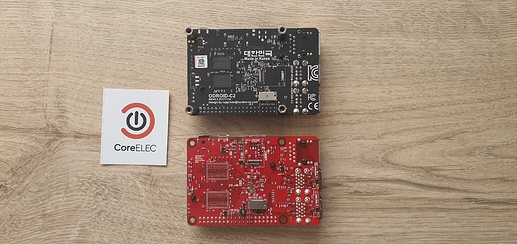 Oh wow it is pretty tiny, I thought the N2 was small.
C4 or N2 for CoreELEC?
The N2 is only $16 more on hardkernels shop, and it seems to be faster on paper.
on the C4 on your picture only two RAM chips seem to be placed (cant be seen - they are on top side).
so there are 2x2GB? Seems to be same as N2 where 4x1GB or 2x2GB are possible as already mentioned elsewhere.
So it seems 8GB should be possible too on C2 and N2?
No, 4x 1GB is max for N2 and C4.
The picture actually shows a 2gb development sample, and not the final board. So it only had half the ram chips placed.
Yep - same form factor as ODroid C1/C1+ and C2, and the main Raspberry Pi range. Ports are in different places so not 100% case compatible.
thank you for this information - so there will be no official 2GB version?