Very interesting board, expecting better thermals because of 12nm CPU, looking forward for details

@anon88919003 do you live in the uk? If so do you know where it was shipped from and did you have to pay any import duty/fees? After spending wayy to long trying to find my next device I've finally decided on the Vim3 pro with heatsink case and fan
Also would a 5v 2amp power supply be enough for CE or is the 24w usb c adapter needed?
Thanks
@Wizzi07 I am in the UK, it was dispatched on the Friday by FedEx from Honk Kong and I received it today (Monday).
I can't answer about the PSU yet but I would imagine a 2.5A adapter would be more than sufficient unless you plan to attach power hungry devices.
I did get hit with customs charges but there was more than 1 board in the box and they was marked as development samples with a $10 value, various members of the team also got hit with similar charges of similar amounts and some received theirs via DHL, mine was delivered before I even received notification that there was customs fees to be paid.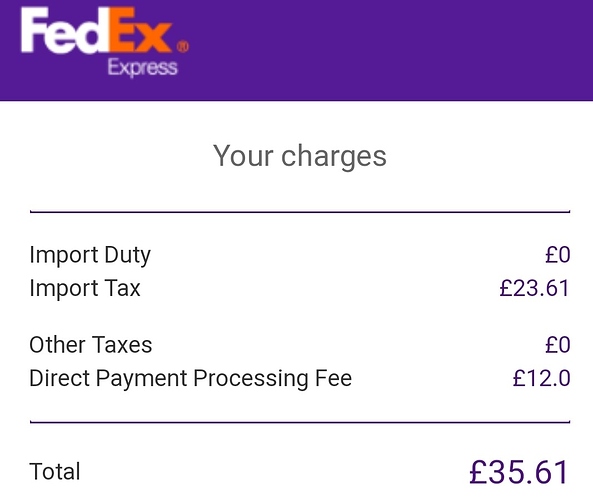 Thanks for the reply! Dhl and fedex are a pain for fees, maybe they used fedex for yours because of the high value of a few boards. I'll email khadas tomorrow and see if they can use ems to ship mine as it will only be a single board +accessories, It's slower but I've never once been hit with any fees unlike dhl and fedex where extra fees are almost guaranteed

What are your first impressions of the vim3, did you get the heat sink and fan?
Some pictures, apologies for the quality but for some reason my DSLR is reporting memory card locked when it isn't.
Just seen recommended PSU is quoted here.
5V,2000mA Power adapter
Isn't 5v/2a a little light for this SOC?
CNXSoft were sent a 5v/3a unit,
A 10W 5V/2A PSU can work on VIM3 for HTPC users even under heavy CPU load, but we will recommend the 24W USB-C PSU if users connect with more downstream USB devices or the NVMe SSD.
Good to see a representative from Khadas on the board.
I'm interesting with heatsink but no fan , what degrees will be when the cpu under heavy working.
The CPU STRESS TEST results we did was with the New Heatsink only and without a cooling fan: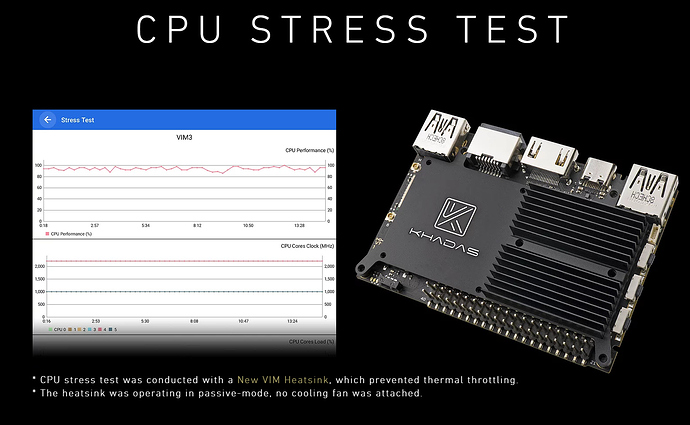 More details:

@gouwa I thought the placement of the fins was a little odd

nevertheless I guess having something on top of the SoC is better than having nothing.
-edit
I've just checked my package again and noticed that I have received 2 heatsinks, 1 correct and 1 incorrect.
Am I right in thinking that to add an M.2 SSD, the M2X Extension Board is required?
That's as toasty as expected without the addition of a fan.
Shoog
cool… hopefully mine will arrive soon


cant wait for coreelec…