Mine is revision b. Got it from the manufacturer.
I did the proper research before ordering the device and I've not seen the GT-King Pro with the rev. A specs anywhere. They are advertised exclusively with the rev. B specs. Actually it makes sense to make the Pro version with the higher clock considered the full aluminum case with the enhanced cooling system. This box with the rev. A CPU hardly ever go above 40 degrees so it seems somewhat under powered.
I've sent a message to the dealer, let's see what's their attitude going to be.
If you buy a beelink box you never know what will you get.
They change the cpu, ram, emmc randomly all the time.
It is just question of luck.
I thought in case of the King Pro, for the higher price you will get selected (quality) components, but I was wrong.
Components don't seem to be high quality. emmc is about as fast as a fast SD card which is very disappointing considering that the Khadas stuff of two years ago is lightning fast. And yes it does make a difference when scrolling through thumbnails or switch screens.
Shoog
I made the giant mistake of buying a GT King a few months ago. It was a giant piece of shit in every aspect-I was lucky enough to sell it to somebody for what I paid for it. Ordered an N2 a few weeks ago and have never looked back.
I use the last nightly (1411) and follow the instruction from How to use the Team CoreELEC ceemmc tool to install CE only on the emmc. Thanks you for this Portisch !
CoreELEC:~/backup # dmesg | grep mmcblk
[    4.414046@2] mmcblk0: emmc:0001 S0J38Y 58.2 GiB
[    4.418569@2] mmcblk0boot0: emmc:0001 S0J38Y partition 1 4.00 MiB
[    4.424646@2] mmcblk0boot1: emmc:0001 S0J38Y partition 2 4.00 MiB
[    4.430703@2] mmcblk0rpmb: emmc:0001 S0J38Y partition 3 4.00 MiB
[    4.452523@2] meson-mmc: [mmcblk0p01]           bootloader  offset 0x000000000000, size 0x000000400000
[    4.461879@2] meson-mmc: [mmcblk0p02]                  env  offset 0x000000400000, size 0x000000800000
[    4.471181@2] meson-mmc: [mmcblk0p03]                 misc  offset 0x000000c00000, size 0x000000800000
[    4.480538@2] meson-mmc: [mmcblk0p04]                 logo  offset 0x000001400000, size 0x000000800000
[    4.489954@2] meson-mmc: [mmcblk0p05]                 dtbo  offset 0x000001c00000, size 0x000000800000
[    4.499311@2] meson-mmc: [mmcblk0p06]             reserved  offset 0x000002400000, size 0x000004000000
[    4.508679@2] meson-mmc: [mmcblk0p07]             CE_FLASH  offset 0x000006400000, size 0x000020000000
[    4.518033@2] meson-mmc: [mmcblk0p08]           CE_STORAGE  offset 0x000026400000, size 0x000e69400000
[    6.869187@0] EXT4-fs (mmcblk0p8): couldn't mount as ext3 due to feature incompatibilities
[    6.999953@0] EXT4-fs (mmcblk0p8): mounted filesystem with ordered data mode. Opts: (null)
That's what I thought as well.

Btw. I've just got the reply to my RMA from GearBest, they claim that there are no different S922X revisions and that my device can run up to 2.2 GHz!

Some user that contacted Beelink regarding the GT-King Pro's 1.7Ghz clock speed:
"Hi,
Thank you for your letter. In order to improve the stability of the system, we have done a down-clocking process on this CPU.
Best regards"
Down-clocking to 1.7Ghz while still advertising it as 2.2Ghz is false advertising.
I would suggest users stay with Odroid-N2 and Ugoos AM6 since their hardware is of much better quality and software support miles better.
Yeah, I've just read that as well.
So the Beelink have done the "down-clocking" and also have changed back to the older CPU serial number schema. Really?

Someone else is claiming that the Amlogic stopped producing the 2.2 GHz S922X because of the stability issues.
And I've also read somewhere that the reason is that the 2.2 GHz has problems in the long term life.
The fact is that we will never know the real reason behind this. I can imagine a lot of scenarios like Amlogic producing the newer A311D and needing to get rid of the bunch of old S922X rev. A chips in its warehouses etc.
P.S. Anyone with the 2.2 GHz version is having the stability issues?
If you have a RevA chip, it's only rated for 1.7GHz on the A73 cores.
Your rev. A has its A73 cores limited to 1.7 GHz as everyone else's. Kodi is showing the frequency of the A53 cores which is 1.8 GHz for both rev. A and rev. B.
Ok, it seems the fun has just begun.

Anyone can please make a summary of what we know about the different S922X revisions?
Are there any documents or confirmed info from the Amlogic itself we can point to?
What are the serial numbers? What are the frequency differences? What are the voltage differences? Is it for sure that there is a different hardware or could it possibly be done by a bootloader?
EDIT: What I've found so far:
Rev. A:
CPU serial: 290a…
A73 max freq: 1704 MHz
Core voltage: higher than rev. B?
8K decode: ?
Rev. B:
CPU serial: 290b…
A73 max freq: 2208 MHz
Core voltage: lower than rev. A?
8K decode: possibly up to 8K@60fps?
Feel free to correct me if I am wrong.
Following on from the Freaktab thread.
I have both the Beelinks GT KING Pro & the UGOOS AM6.
I took this from my UGOOS AM6.
Maybe the information might be useful.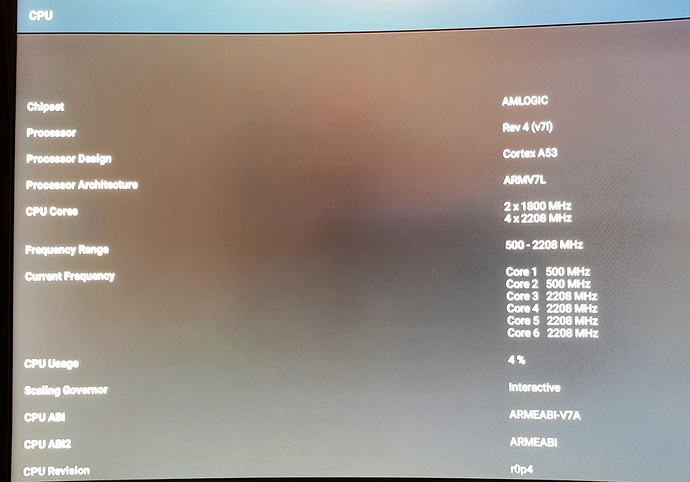 This is the email reply I got from Beelink this morning.
It came after many days of emails back & forth during which they denied there were two versions of the GT King Pro out there.
Hi,
The default frequency of the S922X is 1.8Ghz, and the overclocking can reach 2.2Ghz. However, because Amlogic claims that the S922X overclocking reaches 2.2Ghz, the product will be unstable, and the chip will overheat. Some problems occur during use, and 1.8Ghz is stable. The best frequency of operation, in order to maintain the stability of the product, we began to set the default frequency of the S922X product to 1.8Ghz.
If the customer wants, we can restore the firmware running at the highest frequency of 2.2Ghz, but this may make the product unstable.
Best regards
Rev. B: CPU serial: 290b…
Thx, added the serial to the above post.
Btw. I wonder if recently bought AM6 boxes are being downclocked as well.
yes, I got my AM6 today from Geekbuying and it's rev A.
To be honest at this stage I have no idea of what I have in either my GT King Pro or my UGOOS AM6
Also remember there's a UGOOS AM6 Pro as well which I don't have.
Can someone explain to me how I can find out what version of CPU I have ?
I just took this from my Beelink GT King Pro.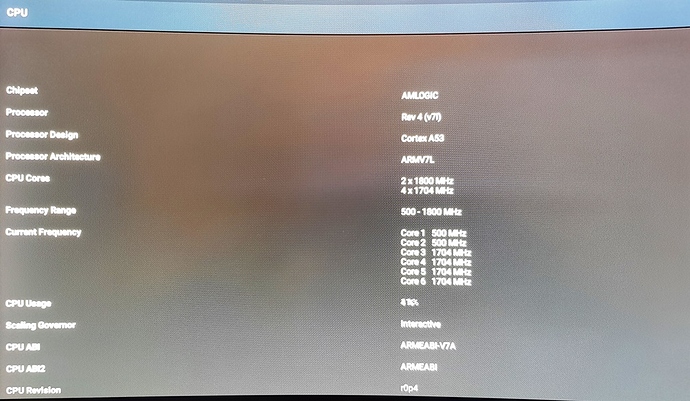 1800&1704 is rev.a
How to check:

Thanks for that boot2k3.
Its over my head but I'll give it a go when I get the chance.
Can I do any damage by just entering cat /proc/cpuinfo | grep Serial