Just to clarify 1 step… Did you make some backup restore on this boxes?
Can u please download 9.2.2 again and update the system? Even better update to last nightly. It's like 9.2.2 with some hot fixes.
yes - this was restored from my 9.1.2_final backup.
(because It is a sore, to install and confire THV_server again
and the TVH_server runs fine !! just the client is "broken" since not using HW decoding --> also did an uninstall of THV-Cleint - reboot an a clean install of TVH-Client :: no change
will do the same with latest 9.2.2 nightly (though I don't want to have the "new update available" messages each day :: I want a static config on each major release.
Since 9.1.2_final does neither support s905x3 nor s905d3 I updated to 9.2.2 because latest 9.1.2_nightly. always brings up this message.


2020-05-14 20:18:26.755 T:4062105616 ERROR: AML: no rw on /dev/video1
2020-05-14 20:19:22.273 T:3923743616 ERROR: AML: no proper permission, please contact the device vendor. Skipping codec...
Do you have some grabber device on this box?
I see Hyperion.NG addon.
Try to disconnect it or and disable Hyperion.NG addon and check.
Try fresh/clean install without the restored backup. Something in the backup "kill" your system.
@boot2k3: THIS WAS IT !!! you identified the trouble-maker!
Hd & 4K Tv tested flawlessly again
here's the new Log: http://ix.io/m28i. (didn't thought it was that easy

)
SO - WHAT NOW ? how can we hand over this to team hyperion ?

I think you need to try to configure this addon from scratch first. And check Hyperion topic on forum, may be some solution available there
Hyperion is configured from scratch,
Just Com-port + baud-rate, number of LEDs. and off I go…
So, the conflict seems to be in the grabbing?! – how long will my Error-Logs. reside under the URLs ?
can you help me, where to post this issue so it can be worked on, please ?
(this forum, or maybe hyperion-forum?)
Thanks in advance

Install last nightly and configure everything from scratch. Do NOT restore a backup.
Something have to break you system as you are the first and only one having such troubles.
Hi guys; it's me again

FOUND the issue-maker: as soon as an EXTERNAL USB-GRABBER is activated in Hyperion.NG, the stutering / choppiness starts. deactivating the external grabber instantly fixes the TV-channels not being decoded in hardware!
Now - to the solution ?

no reply from Bug Reports@hyperion forum – any ideas ?
(maybe switching to CE nightlies?)
Aaaaand. AGAIN:
Clean install of CoreElec 9.2.4.2

Clean install of Hyperion.NG addon

Clean install of TVHeadend Server + Client + Oscam.
(Did NOT copy ANY files from a backup)

Configured it ALL from Scratch!

–> activated USB-Grabber with prio 230 ( internal grabber is 250/default)

after 3rd reboot, video-device for decoding TV is not available and only SW-decoding is available, which renders all CPUs to 100% !
__ I am sooo tired of all of this ___.

Hyperion Devs/Forum don't bother at all, not even a single reply on this issue!

I am sorry but nobody of the devs do have a external grabber so we are not able to reproduce the issue. Also it looks like you are the only one having this issue so it can be related to user/config/hardware issue.
First advise for all TVH users: do not use TVH server and client on same hardware, it will only lead to unknown issues.
Also please keep in mind that the use of oscam is not "legal"! I just guess the use of TVH + oscam (CSA software decryption) + Hyperion.NG is too much for this small SoC.
So try to move the TVH server to another hardware and use TVH client and Hyperion.ng only.
I'm using all of them on my S912 KIII Pro and all works flawlessly. I got TvH server + TvH client + external HDMI usb grabber on the same box and I don't see any issues - all works fine and smooth. Maybe it's something about your configuration? Maybe you should change the resolution of the grabbed picture to something smaller?
These are my external grabber settings: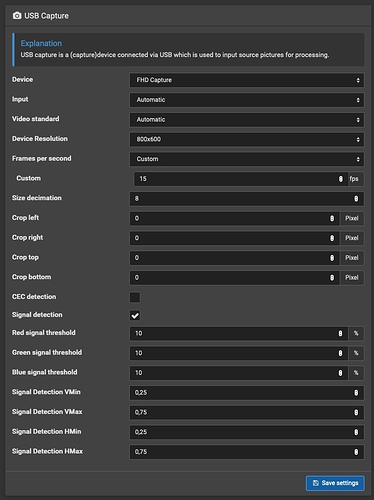 1.) a friend of mine has the same issues… I will test with an HDMI2USB grabber soon
2.) But for testing I will split Hyperion Server & Client to different Hardwares.
3.) Oscam Server is running on my Living Room equipment, and Cleint on S905x3 Hardware is on the next floor in my "Boys Room" - therefore not illegal.


But I will try on different hardwares (pi) and without oscam and keep you updated

thx - will try out as soon as my new grabber arrives

Every test/log have to be without oscam. oscam is a not legal tool to be able to use protected smartcards in local or shared usage. Any support request including oscam/card sharing will be declined and topics are closed.
Be warned @4ltj4