Hi, i'm unable to make coreelec work on my wetek play 2.
These are the steps i follow:
download CoreELEC-S905.arm-8.95.4.1.img.gz and gunzip;
burn the .img to an sd card using etcher (on macOS)
in the sd card, copy /device_trees/sgxbb_p200_2G_wetek_play_2.dtb to /dtb.img
shutdown and disconnect power cable from the wetek play 2
insert sd card, press (and keep pressed for 8/10 secs) the "upgrade" pin on the bottom and connect the power cable
The system boots correctly from the sd card, and i see a nice coreelec logo with a warning in the top left corner: (image removed, new users can only put one image per post)
After 60 secs the kernel boot start. Just a couple seconds in, a see a really long dump looking like a kernel trace, a fatal error "Failed to load kernel modules", and then the system hangs soon after the "Starting Unbind framebuffer console…":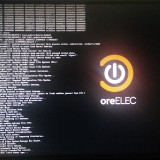 I've tried to
use a different sd card (samsung 32gb u1, kingston 4gb c4)
use a different coreelec version (8.95.3, 8.95.2)
use a different software to burn the sd (libreelec USB-SD creator)
Other info:
the system is connected via wired ethernet, i see the lights blinking but the wetek play can't be seen in the router's dhcp leases page
the wetek play 2 has a dvb-t2 tuner plugged in
i normally have an usb keyboard plugged in, but also tried disconnecting it
the wetek is currently running official libreelec 8.2.5 from nand.
What can i do to fix it? Thank you for your time