This will be fixed in the next nightly build.
Hi All
Today I'm flasehed this firmware on my X96 Max 4/32
And after this i can't to use CE. NOT BOOTING ANY NIGHT BUILD N2 18/07-23/08
What interesting LE correctly booting, but CE no, and after downgrade to any older FW too
WTF? I wanna be with CE(((
Try the next nightly, @Portisch committed a change that should fix this problem.
In worst case, flash an original/older firmware.
I downgraded some old FW but CE dont boot
OK I will wait new nyghtly for try it…
Did you try to do it while pressing the reset button?
Are there any errors on the screen?
I think that any further assistance might require UART logs.
But perhaps someone else on the team will have an idea why it's not booting.
Did you try this cfgload from here on your CE SD card?

I will try this evening a new cfgload script for this problem. You have to take your SD/USB with CE on it to the PC and search for the file cfgload on the COREELEC partition. Please try to find this file.
Isn't cfgload found only on first/boot partition of a fresh burned CE image ?
I said "on a fresh burned CE image".
Here is a SS of CE Boot partition from a fresh burned image "CoreELEC-Amlogic-ng.arm-9.1-nightly_20190824-Generic.img" on my USB stick: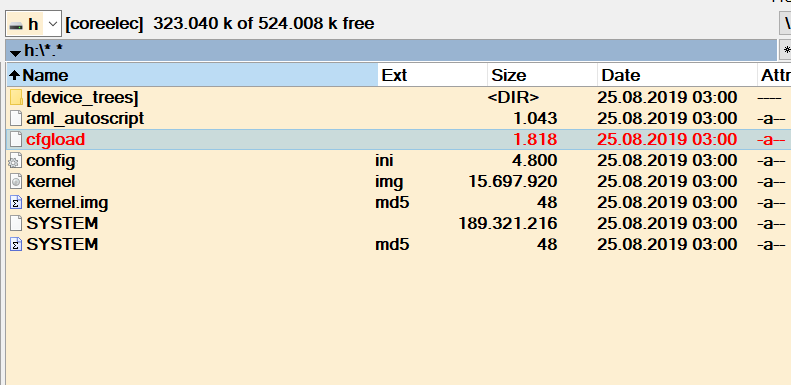 You are using Generic img but for me Odroid_N2
But why do you use N2 image on S905X2 device?
It should be -ng -Generic
I'm stupid idiot
I'd take Generic and it booted
Why are you then posting in S905X2 thread ?
Oh…, I see now you have X96 Max and are using Image for Ondroid N2

Because Im thinked about N2 for S905X2 too becouse device_trees has dtb for X96 Max
I has downloaded many img.gz and im lost what im instaled first time… thx friends
I too was wondering why you had a boot.ini on S905X2 but couldn't work out what you had done

, this file is never present on our Generic images designed for cheap TV boxes like yours.

sorry gentlemen's, I'm idiot lost 2 day on this stupid problem…
Hey! first - Thx devs for great work! I have X96 Max 4/64 (CoreELEC-Amlogic-ng.arm-9.1-nightly_20190824-Generic.img.gz) booting ok, but something wrong with CEC - popup could not initialize cec adapter. Any ideas?
I have the same problem with my Magicsee n5 Max.
Ah I am going crazy. I had flac 24bit 96khz working on my x96 max s905x2, but suddenly no sound. I then booted into an old nightly I was sure it had been working, but no sound with spdif passthrough. Then I started up my old s812 device and flac 24 bit 96khz is working on my receiver. I start up the x96max again and be sure to use the same settings with best match, spdif passthrough, sample rate on 192khz but only 24bit 44.1khz sound or just 16 bit 44.1khz sound works.
Anybody any idea? I am on the latest nightly from 27 august. I don't get any error, but there is no sound going to the receiver or something. And it really has been working also.