The official S905X3 specs have leaked and the block diagram, it will be released as early as next month, the big changes are Cortex A55 cpu cores instead of Cortex A53 and an AI processor: https://www.cnx-software.com/2019/04/12/amlogic-s905x3-specifications-block-diagram/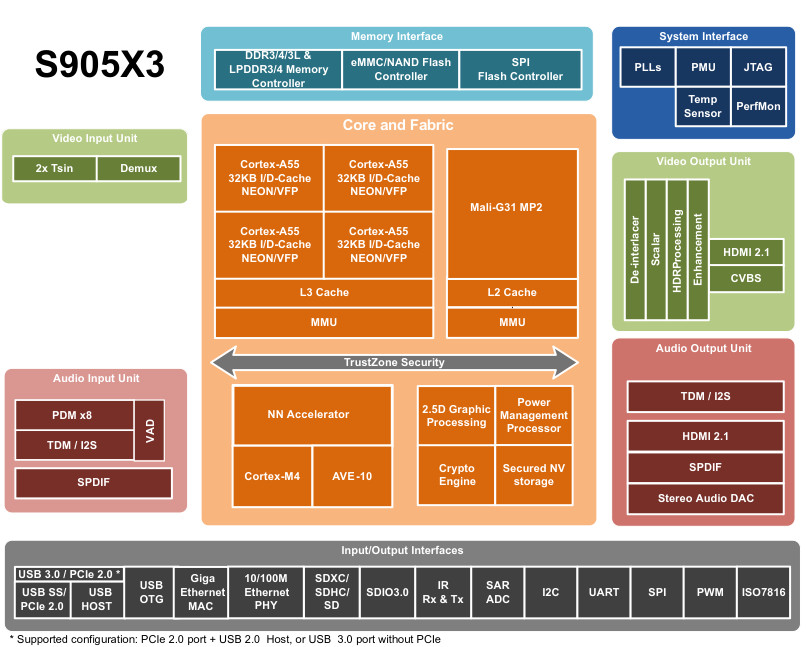 S905X3 box:
I'm hoping to see a new Le-potato board for this, maybe an odroid board too. One of the comments on the 1st link i posted says it is an android-only chip with no linux support but i suspect that most if not all ip blocks are the same as the s905x2 except for the cpu cores and ai processor so presumably won't be difficult to get it working with a mainline kernel.
Cortex A55 has 18% better performance and simultaneously 15% lower power consumption than Cortex A53.
The S905X2 uses a 28nm SoC with 12nm cortex a53 cores, presumably the S905X3 will do the same or maybe they will use 28nm for the whole SoC to save money considering they could run the cores at 1.7ghz and get the same performance as 2.0ghz a53 used in the s905x2 and it would have a similar power consumption.
Here is a post from a few days ago with more info: https://www.cnx-software.com/2019/04/10/amlogic-s905x3-s905y3-s905d3-quad-core-cortex-a55-ai-processors/