Look, now 7 posts up in this thread for the link, then open link
point 3
Finally thank you all for your help
This remote.cofig file from @Tico post 03. Feb. works for me but some keys do not work, which are power, mute and mouse
My box has only a clock and it works.
I have uploaded the conf file from crkcrk to the remote repo
there are a couple of documents that will tell you how to create/modify remote.conf files
@tico How to arrange these few keys to work to make everything work 100%
Did you read the post above?
in the repo is a document telling you how to create a remote.conf or edit the one you have.
also in the repo, are a couple of S905X3 confs you can try.
Has eneyone tryed to install to internal on this box and if so what was the outcome.
Hello again.I'm going to install coreelec on a friend's Tanix TX3.Which image to choose?Stable or latest nightly?
Does anyone know which file to download on Tanix TX3 S905x3?
Cause 2 reasons.One is that many months have passed since then (finally I didn't buy the box yet) i gonna install CE on a friend's tanix.So many things may have changed.And other is i see something about vfd files,that i am not familiar,cause on my Vorke Z6 process was more easy.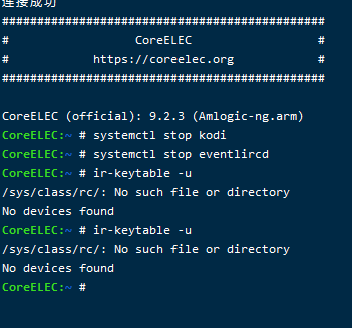 I want to use my remote to power on my box,who can tell me the code of remotewakeup?
Edit: Thanks for moving the post due to my weak milkdrinker searchfoo…
Great, seems that I can assume one can install to mmc and all hardware work (?) = this will be a great for experiments.
Anyone got experience with the Tanix TX3? (thinking of buying it)
Information seem a bit more scares then usual, might not be a good sign.
Not the mini, nor the max, or the pro apparently for that matter; just the plain average lukewarm Tanix TX3.
I for one, would welcome a hexadecimal naming system…
A little late, sorry.
You need to temporary remove any remote.conf from .config or touch a new file /storage/.config/remote.force_meson_ir and reboot. Then the ir-keytable -u is working as it uses meson-ir, not meson-remote.
Anyone managed to install CE to emmc?
It's not supported so:
    TX3:~ # ceemmc

    Starting CoreELEC eMMC installation tool...

    System is not supported: sm1_s905x3_4g!

Oh nevermind stoopid me, I ran:
TX3:~ # ceemmc -x
Seems to work as described on the tin.
Does ethernet work?
Can't seem to get mine going.
ethtool tells me a tall tale about me being lazy and not plugging in the cable. Which is obviously a lie. Things can be borked though…
Use sm1_s905x3_4g_1gbit for 1GBit, or sm1_s905x3_4g 100MBit.
There are different hardware configurations out there all called TX3.
Boot Android and you will see what type of connection LAN should be.
Hm, alright. It said on the tin that it was a 100mbit, and that's just about enough for me. However, you are right. It's a 1000mbit.
Thanks for the 900mbit's!