Thats going to be better, but good air flow is also essential.
Shoog
Go even bigger? I will make some holes over and under the soc, for better air flow.
Without those holes your probably wasting your time, improved air flow is more important than a big enclosed heatsink.
Shoog
Also fit some higher "feet" to allow for better air flow.
Will do, thank you all for your good advise, will up some pics when i am done.
Not DIY, but do you think it will help?
Router fan DIY PC Cooler TV Box Wireless Cooling Silent Quiet DC 5V USB power 120mm fan 120x25mm 12CM W/Screws Protective net

Would do but you also need to introduce some air flow into the case, a few strategic holes.
Shoog
Fan ordered. I will test when get it. I hope I won't need to make additional holes to decrease temperature
Taller rubber feet will also make a difference, allowing better airflow below the box. I got these at a dollar store. You can see the originals in the centre of the box for a comparison.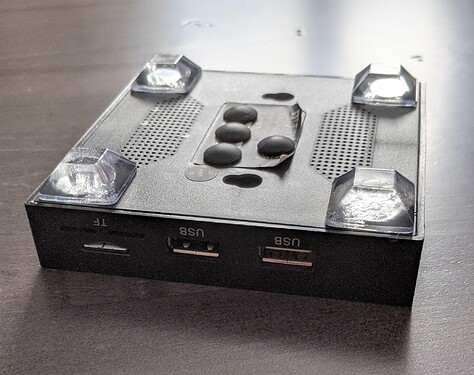 Interesting. I own Vontar X3, so case has different shape, but maybe I will able to mount something like that
box sitting upright helps form a slight air current bottom upwards if the holes are large enough. you may not even need a fan.
A boredom inspired, bush-league thermal mod.
Cut a hole for a taller and wider heatsink. Drilled out some of the pitifully small air grille holes on the bottom. Drilled a few modest holes in the top corners of the case to exhaust hot air. She stays stable at around 50°C throughout a solid Netflix pummelling.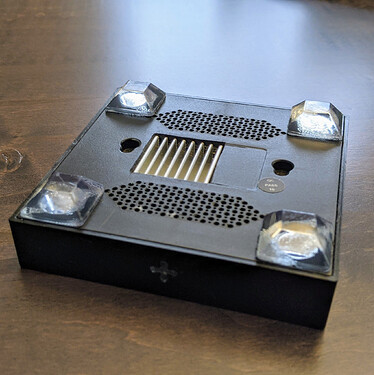 They look like ice cubes on the bottom for extra cooling

Lol. You're right! Now that's all I'm gonna see.

I have this under my box (Mini M8s II).
Seems to help a bit (I was getting 80+ C degrees, now I'm getting 58 - 65).
I have also drilled some air holes on the top and the bottom of the box.
The cooler seems to vibrate a lot and this caused some noise on my wooden surface, so I placed it on a small book along with some pritt tack plasticine to absorb the vibration.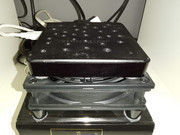 Not received yet in my case, still in transit. I think I will use it when load is heavy, for example Netflix 1080p SW decoded. Noise is expected
Different fans have different noise levels. Its worth testing a few and for a few quid whisper fans are all but silent.
Shoog
Also powering a 12V fan with 5V will considerably decrease noise and still give enough airflow…
In my case, with Vontar X3, from 79-80 to 45-47. I am satisfied. But, it generates some noise.