Hi guys!
I would really appreciate your help - I don't know what I am doing wrong.
I can't get my IR remote to work.
First I downloaded CoreELEC-S905.arm-8.90.2.img.gz, extracted the .img and burned it to my SD via Win32DiskImager.
Then I bootet CoreELEC on the box, no issues - it runs well.
IR is not working, so I used Yatse.
The box is a Mini M8S II 2G/16G (S905X).
I had been using kszaq builds for ages and the remote always worked.
So I did everything you explained in this tutorial @anon88919003 and the result is: IR does not work.
Here is a screenshot from my Putty: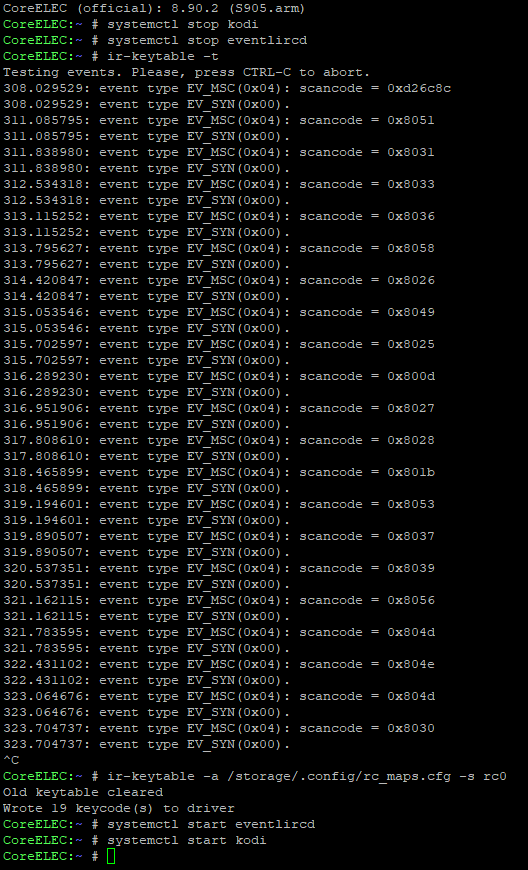 This is what I wrote in my file (YOURMAPNAME):
0x8051 KEY_POWER
0x8031 KEY_PLAYER
0x8033 KEY_PAGEUP
0x8036 KEY_PAGEDOWN
0x8058 KEY_INFO
0x8026 KEY_UP
0x8049 KEY_CONTEXT_MENU
0x8025 KEY_LEFT
0x800d KEY_ENTER
0x8027 KEY_RIGHT
0x8028 KEY_DOWN
0x801b KEY_BACK
0x8053 KEY_HOME
0x8037 KEY_PREVIOUS
0x8039 KEY_NEXT
0x8056 KEY_REWIND
0x804d KEY_PLAYPAUSE
0x804e KEY_FASTFORWARD
0x8030 KEY_STOP
I did everything exactly as explained but not a single IR input works…
Can anyone help me?
Thank you very much in advance!