I've been using the 'CoreELEC-S905.arm-8.95.6-S905' build on my X96 Mini for a few months now. It appears to run better than my previous installation of LibreELEC did.
However there is an issue that has persisted since my LibreELEC days and continues to bother me on CoreELEC.
Most of the content I watch are Blu-Ray MKV remuxes (personally remuxed from physcial blu-rays), so the bitrates are often very high (>30Mbps) and all either AVC or VC1.
There's one particular glitch with particular films whereby the bottom half of the video suddenly scrambles and becomes very pixelly and glitchy for about a second, before reverting to normal. With some films I'll get this every 10-15 minutes for certain periods of the film.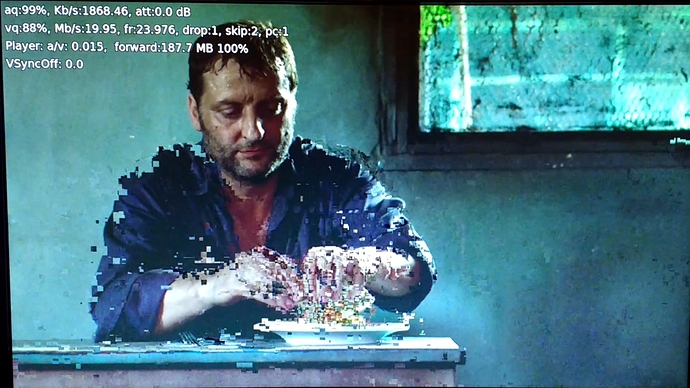 This image was taken with LibreELEC a few months ago, it requires a lot of work to capture a screenshot of this rare and fleeting moment, but it's essentially the same thing with CoreELEC, but not quite as bad as this. In CoreELEC it's usually the bottom third of the image that is effected, and if memory serves - the image kind of slants in a diagonal direction, with this glitchy blocky noise effect.
It's important to note that the videos run on my PC, run without issue.
Looking at MediaInfo and comparing videos that have this problem with other remuxes that run without issue, I can see no significant difference in their encoding.
I can only assume my box is maybe overheating or over-stretched its resources due to the high and often variable bitrates.
Anyway, I don't know, it might be resolvable, which is why I'm posting here.
Is anyone familiar with this issue I've described, and is there an effective resolution to it?