I think the bat will not fit because there is a fan connecter under the board
Yes, you're right

I will use the first pcb file give it a shot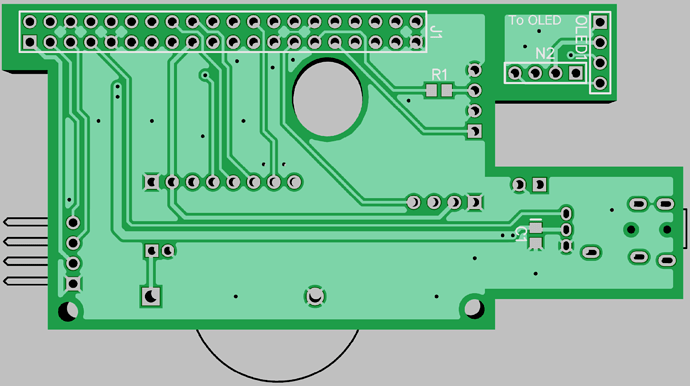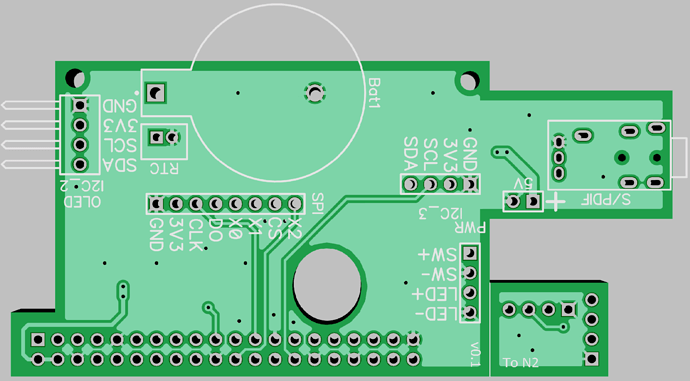 N2-SPDIF-OLED.dip (254.1 KB)
It's perfect. I'll give it a shot
Cool. Only now I think that the spi header will not be usable. If it's not important then it should be good.
I'll play with it more tomorrow or this weekend.
I finally imported the N2 layout, so I can finally do a layout and see exactly where the problematic areas are.
I have sent the first pcb file to make several pieces and will receive it two days later, I'll wait for the final PCB version and make again once you confirmed no problem.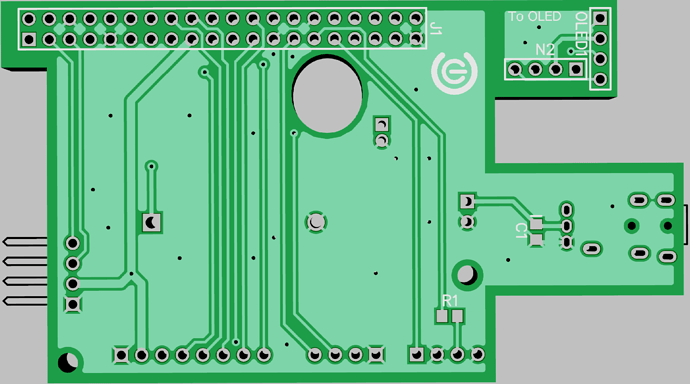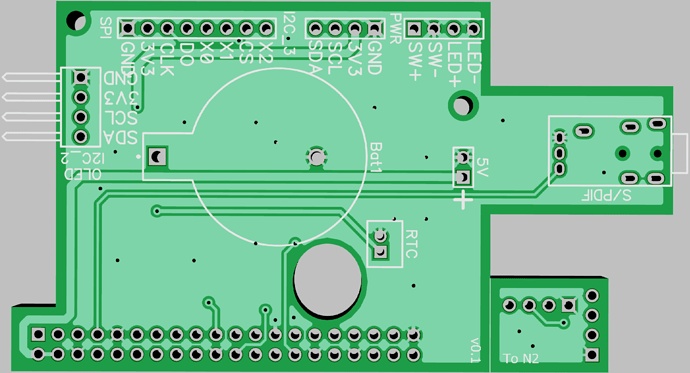 N2-SPDIF-OLED.dip (258.4 KB)
It has a tiny daughter board to mount the OLED easily at a 90 degree angle, you will need to cut it off.
It has SPDIF output using this jack. C1 = 0.1uF
It has a breakout to connect an SPI display.
It has a breakout for a second I2C header.
A header with 5V power.
A header for a power button with LED (R1 value depends on LED spec), like explained by HK here.
Thats a pretty nice board for it.
Nice those breakouts there, I might give it a try.
Great, I'll try it next week
I ordered 10 of this boards, I only need two. So in case someone in Europe is interested I can ship it for around the amount of the shipping costs.
It would be a waste having them lying around…
In case drop me a PM.
Update: I even have battery holders remaining in case someone would need them as well.
Which version of the board you have?
Yeah wich version, cos I am in Europe also.
If its the last one I am interested.
The latest from yesterday! Just send me a PM.
The one from yesterday is pretty much the final version for now.
That's looking great!
Could you please post a pic from the back side of the PCB, and maybe one of the rear of the box when the PCB is mounted?
May I ask why you moved the OLED more to the left? Just to put it closer to the edge or was there something in the way preventing it from being mounted?
Awesome, thanks!
This looks great. And I'll be making a version of this board to also integrate the power button, similar to the OLED, with a small daughter board. It will also have a cut out for the fan header.