Thanks for this, it works!

I confirm, all video modes are now available. Automatic fps switching also works well. Big kudos to coreelec developers.
Likewise here regarding all video modes. Thanks to the developers.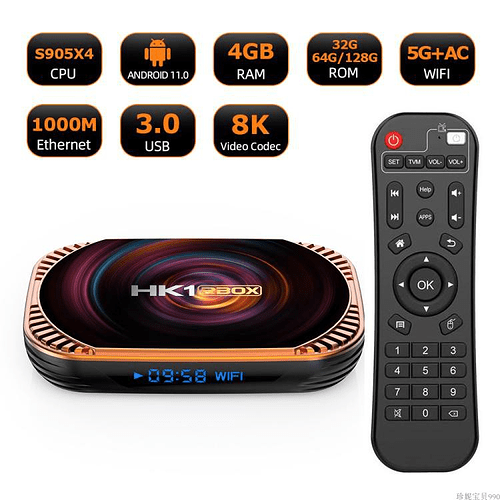 Is there anyone using the above box? Can please confirm if CE in the latest nightly is working well?
Planning to upgrade my tv box from Mecool M8S Pro L
All of the information and lengthy testing of this specific box, as indicated in the title and pictures is in this very thread.
Unfortunately, the manufacturer this specific box has been using different ethernet modules. If you're unlucky and get the wrong box with the unsupported ethernet module, then your ethernet port will not work.
Otherwise, it is a decent device to run CoreELEC. To be noted the dual boot function is not included yet. In other words to go from CoreELEC to the native Android running on the box, you have to remove the micro SD card and reboot.
Can this TV box support Dolby Vision in Kodi? I'm getting a new 85-in TV with Dolby Vision.
I just bought HK1 RBOX X4 and installed Coreelec nightly build succesfully.
I noticed the following problems:
Ethernet is not working (I have the 1gbit version)
When power off through KODI, remote or SSH the box restarts. Because in my TV I had CEC enabled when I power off my TV, the box restarts and the TV reopens but when I power off the TV a second time the box goes into sleep mode without restarting!
Everything else works correctly.
Also does anybody have found the correct VFD configuration for this box? I tried HK1 X3 but it does not work.
I also got two HK1 RBOX X4 devices.
Both show same bad behaviour regarding ethernet just as kostas912 and emveepees devices.
It is just not activateable.
Is there any way to get a 1GBit running maybe using the USB3 port?
Or extract drivers from Android when kernelversion matches? Just thinking…
Earlier I posted the link to what I really suspect is the correct driver for the JL 2101 but the posted testbuild and any build I make don't seem to load it for me so it might be a kernal 4.9 issue. Ethernet via my USB3 hub works but the iperf scores a lower then the Android scores for built in Ethernet.
Hi All-
I am a Newbie to CE, just installed the CoreELEC-Amlogic-ng.arm-19.5-Matrix_nightly_20220702-Generic.img on my Ugoos X4 Pro device (Ugoos x4 dtb). And I then installed Netflix, everything went fine but be unable to watch movie .
I am always asked to install Widevine but get "Input stream Helper Add-on" error windows
Any of your help will be much appreciated.
Did you use this repo?
repository.castagnait-1.0.0
Nope, I used repository.castagnait-2.0.0 and for what ever reason, i did a fresh install bot CE and Netflix, It is working now

Thanks a lot
Anyone here use the bluetooth remote ugoos ur-01 with CE. After pairing the device, everything works but the OK button did not (it works fine on Android).
Copying the remote.conf for UR-01 to Configfiles folder did not work either.
Here is my remote:
Any idea on this problem?
Thanks a lot.
This file is run in infrared mode, not related to bluetooth.
please use infrared mode for Ugoos UR-01
There's a way to achieve this with the Bluetooth remote. There are posts scattered here and other forums of how to do it using evtest and .hwdb file.
I'll post here later a small how to.
I wrote the configuration file for this remote myself and all keys but for the mouse and voice control should work. Maybe go through the troubleshooting steps (especially step 2) and see if that gets things going?
Quick update: I tested the file from the repo on Ugoos AM7 and it works as intended.
@hungphutho Thanks for quick reply but it did not address the issue as the UR-01 is in fact the Bluetooth remote. Is there any way to toggle the IR mode, if yes, we still have the problem with OK button in BT mode though.
@Vasco: Thanks for the hint. I have quite limited knowledge with remote and CE. Looking forward to your "HOW TO".
@ Betatester: Thanks for the owner of very helpful config file for CE community (with that i was able to get the stock IR remote working). I ll try the troubleshooting steps and let you know. Believe that if it works with Ugoos AM7 then should be ok with Ugoos x4 pro.
@All: Thanks all for your always great support.
thanks for your suggestion , i have debugged the data for you which can guide someone who needs to do it
cat /proc/bus/input/devices

I: Bus=0005 Vendor=005d Product=0001 Version=0003
N: Name="UR01-BLE"
P: Phys=a0:67:20:e0:6f:47
S: Sysfs=/devices/virtual/misc/uhid/0005:005D:0001.0001/input/input6
U: Uniq=20:19:70:00:23:45
H: Handlers=sysrq kbd mouse1 event6 
B: PROP=0
B: EV=10001f
B: KEY=3007f 0 0 0 0 483ffff 17aff32d bf544446 0 0 70001 130ff3 8b17c007 ffff7bfa d9415fff febeffdf ffefffff ffffffff fffffffe
B: REL=143
B: ABS=1 0
B: MSC=10

cd /etc/udev/hwdb.d/
nano 10-ur01.hwdb

Content
evdev:input:b0005v005d*
 KEYBOARD_KEY_c0041=enter

udevadm hwdb --update
udevadm trigger -s input
reboot

ALL KEYS ON UR-01
Event: time 1657643216.407118, type 4 (EV_MSC), code 4 (MSC_SCAN), value c0030
Event: time 1657643216.407118, type 1 (EV_KEY), code 116 (KEY_POWER), value 1
Event: time 1657643216.407118, -------------- SYN_REPORT ------------
Event: time 1657643216.619090, type 4 (EV_MSC), code 4 (MSC_SCAN), value c0030
Event: time 1657643216.619090, type 1 (EV_KEY), code 116 (KEY_POWER), value 0
Event: time 1657643216.619090, -------------- SYN_REPORT ------------
Event: time 1657643231.953581, type 4 (EV_MSC), code 4 (MSC_SCAN), value c0042
Event: time 1657643231.953581, type 1 (EV_KEY), code 103 (KEY_UP), value 1
Event: time 1657643231.953581, -------------- SYN_REPORT ------------
^[[AEvent: time 1657643232.110577, type 4 (EV_MSC), code 4 (MSC_SCAN), value c0042
Event: time 1657643232.110577, type 1 (EV_KEY), code 103 (KEY_UP), value 0
Event: time 1657643232.110577, -------------- SYN_REPORT ------------
Event: time 1657643233.495497, type 4 (EV_MSC), code 4 (MSC_SCAN), value c0045
Event: time 1657643233.495497, type 1 (EV_KEY), code 106 (KEY_RIGHT), value 1
Event: time 1657643233.495497, -------------- SYN_REPORT ------------
^[[CEvent: time 1657643233.651609, type 4 (EV_MSC), code 4 (MSC_SCAN), value c0045
Event: time 1657643233.651609, type 1 (EV_KEY), code 106 (KEY_RIGHT), value 0
Event: time 1657643233.651609, -------------- SYN_REPORT ------------
Event: time 1657643234.249618, type 4 (EV_MSC), code 4 (MSC_SCAN), value c0043
Event: time 1657643234.249618, type 1 (EV_KEY), code 108 (KEY_DOWN), value 1
Event: time 1657643234.249618, -------------- SYN_REPORT ------------
^[[BEvent: time 1657643234.405625, type 4 (EV_MSC), code 4 (MSC_SCAN), value c0043
Event: time 1657643234.405625, type 1 (EV_KEY), code 108 (KEY_DOWN), value 0
Event: time 1657643234.405625, -------------- SYN_REPORT ------------
Event: time 1657643234.969681, type 4 (EV_MSC), code 4 (MSC_SCAN), value c0044
Event: time 1657643234.969681, type 1 (EV_KEY), code 105 (KEY_LEFT), value 1
Event: time 1657643234.969681, -------------- SYN_REPORT ------------
^[[DEvent: time 1657643235.181686, type 4 (EV_MSC), code 4 (MSC_SCAN), value c0044
Event: time 1657643235.181686, type 1 (EV_KEY), code 105 (KEY_LEFT), value 0
Event: time 1657643235.181686, -------------- SYN_REPORT ------------
Event: time 1657643256.132325, type 4 (EV_MSC), code 4 (MSC_SCAN), value c0041
Event: time 1657643256.132325, type 1 (EV_KEY), code 353 (KEY_SELECT), value 1
Event: time 1657643256.132325, -------------- SYN_REPORT ------------
Event: time 1657643256.133301, type 4 (EV_MSC), code 4 (MSC_SCAN), value c0041
Event: time 1657643256.133301, type 1 (EV_KEY), code 353 (KEY_SELECT), value 0
Event: time 1657643256.133301, -------------- SYN_REPORT ------------
Event: time 1657643269.028747, type 4 (EV_MSC), code 4 (MSC_SCAN), value c0224
Event: time 1657643269.028747, type 1 (EV_KEY), code 158 (KEY_BACK), value 1
Event: time 1657643269.028747, -------------- SYN_REPORT ------------
Event: time 1657643269.029721, type 4 (EV_MSC), code 4 (MSC_SCAN), value c0224
Event: time 1657643269.029721, type 1 (EV_KEY), code 158 (KEY_BACK), value 0
Event: time 1657643269.029721, -------------- SYN_REPORT ------------
Event: time 1657643269.754729, type 4 (EV_MSC), code 4 (MSC_SCAN), value c0223
Event: time 1657643269.754729, type 1 (EV_KEY), code 172 (KEY_HOMEPAGE), value 1
Event: time 1657643269.754729, -------------- SYN_REPORT ------------
Event: time 1657643269.911722, type 4 (EV_MSC), code 4 (MSC_SCAN), value c0223
Event: time 1657643269.911722, type 1 (EV_KEY), code 172 (KEY_HOMEPAGE), value 0
Event: time 1657643269.911722, -------------- SYN_REPORT ------------
Event: time 1657643271.093813, type 4 (EV_MSC), code 4 (MSC_SCAN), value c0040
Event: time 1657643271.093813, type 1 (EV_KEY), code 139 (KEY_MENU), value 1
Event: time 1657643271.093813, -------------- SYN_REPORT ------------
Event: time 1657643271.249783, type 4 (EV_MSC), code 4 (MSC_SCAN), value c0040
Event: time 1657643271.249783, type 1 (EV_KEY), code 139 (KEY_MENU), value 0
Event: time 1657643271.249783, -------------- SYN_REPORT ------------
Event: time 1657643272.746866, type 4 (EV_MSC), code 4 (MSC_SCAN), value c00ea
Event: time 1657643272.746866, type 1 (EV_KEY), code 114 (KEY_VOLUMEDOWN), value 1
Event: time 1657643272.746866, -------------- SYN_REPORT ------------
Event: time 1657643272.948858, type 4 (EV_MSC), code 4 (MSC_SCAN), value c00ea
Event: time 1657643272.948858, type 1 (EV_KEY), code 114 (KEY_VOLUMEDOWN), value 0
Event: time 1657643272.948858, -------------- SYN_REPORT ------------
Event: time 1657643274.591876, type 4 (EV_MSC), code 4 (MSC_SCAN), value c00e9
Event: time 1657643274.591876, type 1 (EV_KEY), code 115 (KEY_VOLUMEUP), value 1
Event: time 1657643274.591876, -------------- SYN_REPORT ------------
Event: time 1657643274.793904, type 4 (EV_MSC), code 4 (MSC_SCAN), value c00e9
Event: time 1657643274.793904, type 1 (EV_KEY), code 115 (KEY_VOLUMEUP), value 0
Event: time 1657643274.793904, -------------- SYN_REPORT ------------
Event: time 1657643277.708005, type 4 (EV_MSC), code 4 (MSC_SCAN), value c0221
Event: time 1657643277.708005, type 1 (EV_KEY), code 217 (KEY_SEARCH), value 1
Event: time 1657643277.708005, -------------- SYN_REPORT ------------
Event: time 1657643277.708942, type 4 (EV_MSC), code 4 (MSC_SCAN), value c0221
Event: time 1657643277.708942, type 1 (EV_KEY), code 217 (KEY_SEARCH), value 0
Event: time 1657643277.708942, -------------- SYN_REPORT ------------


10-ur01.hwdb (49 Bytes)