Hi, I have enabled Tmate sharing.
I have Rocktek G2 version of the Homatics box and I have no ethernet.
Looks like this device is using completely different ethernet chip which needs to be identified first. Can you open device and make good pictures of board?
You have no gigabit, use the the s905x4 2g/4g DTB.
Then you should have at least 100MBit Ethernet.
Thats mean the Rocktek g2 device has no ethernet chip solded?
When I saw the picture, there who the homatics has the motocomm chip, in Rocktek just empty space…
I am getting more than 700mbps up and down consistently so the G2 has definetly gigabit ethernet
Then the internal phy was updated in the SoC as before only 100MBit was possible.
No idea, check all chips on PCB and Google them.
It is possible that Android is using some code we don't have. Ask the manufacturer for the required changes we have to make to get ethernet working

The rocktek also use same firmware as the homatics. But seems like they have a driver separate from the homatics.
When it should be really LAN gbit there must be a chip on bottom side of the PCB.
Ask your vendor for sources!
I found the product page for the RockTek G2, it has a Broadcom chip on it that would have Wifi and Gigabit options? Could this be?
"G2 uses Broadcom chip with the latest WiFi 6 wireless network technology and gigabyte wired Ethernet."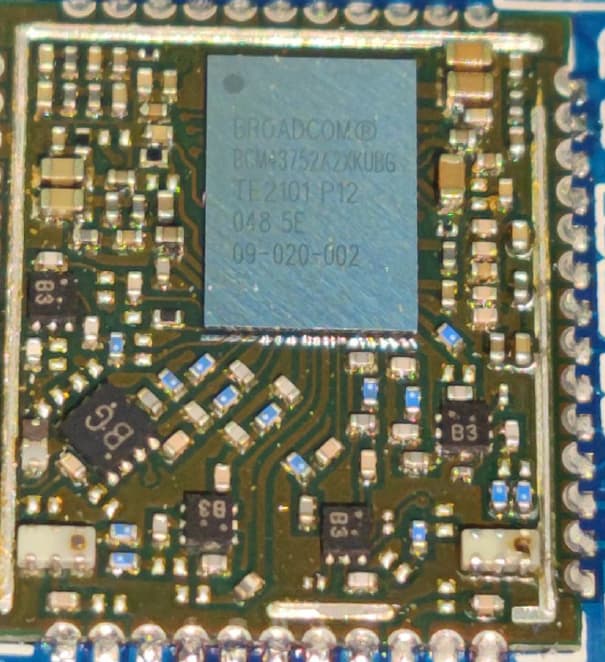 Can you find it on the PCB?
This is just sentence from specifications telling it has wireless and wired connectivity.
BCM43752 is only for Wi-Fi 6 and Bluetooth 5 - and also FM radio receiver


https://www.broadcom.com/company/news/product-releases/52191