I think you mean: S905D3 (wim3L) and S905X2 … isn't it?
it's difficult to buy the s905d3 box, so I consider the s905x2. I hope someone can recommand a TV box with S905X2 for me. X96 MAX or GT1-mini, or any else
There are a number of things that can influence a decision and I've spent months mulling over my update from an S912 and have just ordered an A95X Max as it offers the versatility that I need for the uses that I will have.
But I would advise that you dive in to reviews, forums and user experiences where you can get a better idea of how a particular device may fit your own individual needs.
X96 Max is a quality "cheap" box, i can recommend it
I have the 4/64GB version, CE runs on it without any problems (glan, wifi, bt) and it's very fluid, if you need it for CE then buy the 4/32 version and you will save 5-6 dollars as CE runs only from microsd card there is no more internal install for nextgen processors except SBC's, forget the 2GB RAM versions with 100Mbit ethernet
Don't buy today an S912 box, it's very old now and the new S905X2 has much better support, also new 12nm fabrication process=lower heat, higher raw performance
Thank you
can be run from USB?
I haven't tried it so im not sure but it should boot just like from card, but why would you use usb instead microsd? You can buy a 8gb class 10 sandisk ultra microsd for about 2-3 usd
Hi Friend
is your X96 remote working evey well? can power on and off?
I've just purchased this device,as my old t95 s905 has eventually packed in,it's been ages since I've installed from fresh.
Could you point me in right direction of dtb and remote conf by any chance? So I can prepare my SD ready for its arrival.
Am I right there's no installtointernal anymore?
Cheers
In my memory,nightly no installtointernal 。
X96MAX can refer to these few posts (for VFD remote and wakeup)

I see Khadas are doing a pre-order offer of $49.99 minus a $5 discount code AND FREE SHIPPING (at least to France)
You can even get a 'HTPC kit' with remote, case, heatsinks and coreelec preinstalled for €65 with extra discount…
How would this compare to the Odroid N2?
The N2 will be faster, the VIM3L is more compact, has wifi and emmc built into the board.
Can anyone confirm that this X96 MAX 4/32gb will be capable with Corelec to play 4k HDR and hd audio passthrough/ bistream ?
Anyone? I am willing to order an x96 max with 4gb/32gb. Is it the right choice? 4k, hdr and audio bistream atmos /dtsx running CoreElec . Thank you in advance !
To this day I still don't understand why HDR10+ and DV don't work in a 905x2. According to that table it should support both dynamic range formats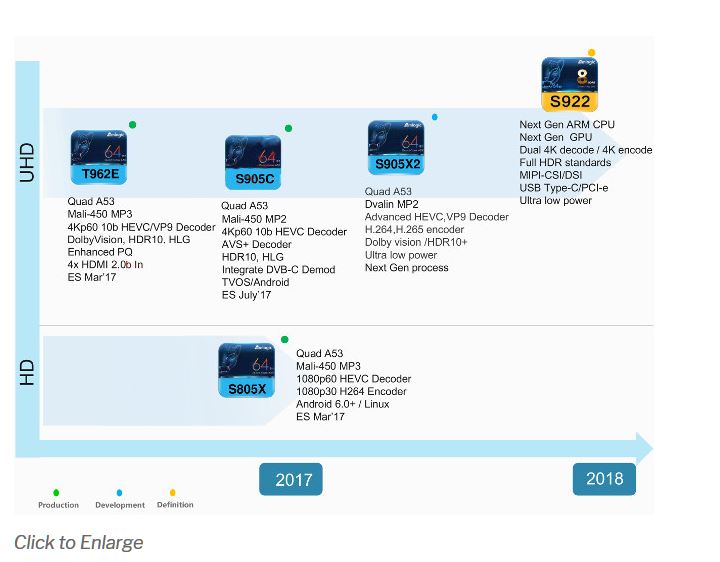 DV is optional, and it's only supported in hardware on some versions of the SoC. That said, you still need support for it in the kernel and also in the whole playback software stack - which is currently unavailable.
HDR10+ is currently not supported due to kernel limitation - at least AFAIK.
You want to tell me that there will be no HDR + and DV support in the future. Or could it be?
We can't say anything for sure right now.
I wouldn't bet on having DV though.



I can confirm the fact that VIM3L, for beginning, will not be manufactured with a Dolby Vision compatible SoC. This is the reason that I have canceled the order.