I'm starting the thread to document the issue I'm having with the VIM3 and using a 2160p GUI setting.
After getting my VIM3 I booted CoreELEC from an SD card and immediately did an installtoemmc, after rebooting I set my GUI to 2160p60 and had really bad screen corruption, see the following image and video.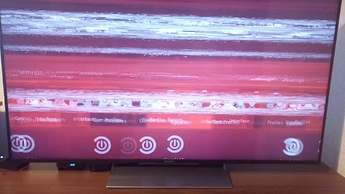 Vid 20190817 171744-1.m4v
(7.0 MB)
All other resolutions 1080p and below work perfectly, the issue only appears at 2160p. After some more testing I discovered that 2160p24 works fine until the CPU is loaded down, ie during a library scan, then the issues returns but the screen corruption isn't as bad.
After talking with @anon88919003 back and forth he asked my to test 2160p in Android to see if it was a hardware issue, I reflashed Android and tested 2160p60 and it worked perfectly. Now after reinstalling Android I no longer had CoreELEC on emmc so decided to just run it from an SD card. Once booted again I set the GUI to 2160p60 and to my surprise the issue had completely gone! So thinking it was maybe just a bad initial install I ran installtoemmc and rebooted… and the issue was back

TLDR - In conclusion:-
CoreELEC running from SD card, 2160 GUI works perfectly.
CoreELEC running from emmc, 2160p GUI shows screen corruption.
As a note before anyone asks, it's not a HDMI cable or TV issue, the VIM3 is a drop-in replacement for an Odroid N2 (same TV, same cable) and that works fine at 2160p60, but just to check I've tried multiple cables and a different 4k TV and the issues still occurs.