I am a big fan of the minix brand, great quality boxes and have a huge heatsink.
Why do you think its a fake one?
I think the real Tanix box has "Tanix" written on it where as this one has "TX92"
TX 7 S905X 2gb/32gb (WiFi AP6255) 8.2.3.1 (2018-01-22) Sd Card Boot (PS3 Play TV DVB-T dual modulator Tuner)

Rock64 4gb/EEMC 64gb + SD Card Testing LE Nightlies. Great Picture. CoreELEC Love Needed

Tanix MiniTx3 S905w Crap Picture
K1 Pro S905D 2GB/16GB CoreELEC 8.90.1 Runs well
Sharp Aquos Quatron 1080p 70 inch TV for testing. 5 Years old.
Those new rock boxes have a USB 3 slot dont they, thats pretty dope.
3 USB Slots. 1 is USB 3.
Gigabit Ethernet.
It's missing CoreELEC Love.
Until the Love comes on,
I have to keep visiting that Korean Forum.
Ahhhh, 4 USB slots sound tasty, If someone makes a premade box with that and CE can run on it, might pick one up, or should I invest in 4 intel boxes at $700 each?
I have been thinking about getting the Rock64 purely because I have heard it displays HDR properly unlike the AMlogic devices.
The problem though is obviously OS support.
Are the libreelec test builds working well for you on the Rock64 ? Any problems with video playback and sound ?
There are playback issues. They are slowly being fixed. The latest nightly 3rd May is pretty good.
The biggest difference between any Amlogic Device and the Rock is the Video Quality on my 1080p TV using High Bitrate Movies. The Rock Video Picture is Amazing. No exaggerating. It's like i upgraded my TV. TVH Client playback has improved. HD nearly as good as AML. Software decoding on SD Mpeg 2 with Deinterlace OFF is good.
All that HDR 4K UHD VP9 stuff i have no idea.
I reckon they're cheap. I purchased the 4gb version and 64gb Emmc.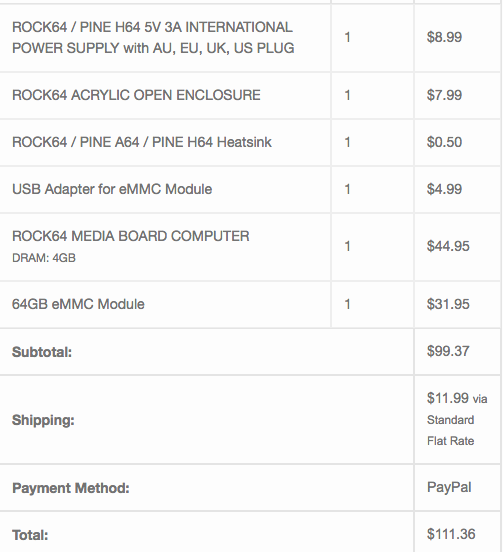 Maybe we all have to switch to Rock64 soon, eh?

I can put you onto a New kind of stupid Guy on the Korean Forum. He's an Intel Shareholder.
Might get you a better deal. Maybe 10% off for 4. HA! (He's not here is he ?)
Tatsy boxes, how does the KIII PRO run?
Is the heatsink decent?
kiii work how to charm
temperature +/-
Android 80°C
ELEC OS 60°C
S912 has working temperature to 125°C because I'm don't worry about this.
Minix U9 user here

--> CE 8.90.1 with dirty regions disabled is working great!
125C???
Thats enough to cook a few eggs.
how small is the heatsink, or do you mean 125F?
Well, you probably are one of those who like to panic

Yes, indeed, 125°C degrees on purpose is enough to melt lead, but such a temperature is hardly possible, it just talks about the margin of strength …
Ah, I get what you meant now, it can operate up to 125C.
60C running temp is not too bad I guess.