More details would be nice, this resistor fixes SPDIF ??
Yes, this resistor was experimentally selected using a variable resistor, until a digital signal was received on the receiver, and later replaced by a normal one with the same nominal value
This spdif problem also occurs on my two x96max, it is a common problem! Thank you for your technical support! I am going to try to fix it!
Hi there!
This is an older thread, I know - but unfortunately, I do have the same problem with my X96 Max+ Box (S905X3 4GB/64GB).
The layout seems to be a little bit different, but SPDIF and HDMI are still on the same position of the board right next to each other.
Before I get to the soldering action, I just wanted to make sure I am doing the right thing, since the resistor positions from @as_id and @leixixiang seem a little different to each other.
@as_id is bridging a tiny distance with an SMD resistor to a position I do not have on my board (?), while @leixixiang seems to be bridging to the HDMI port.
Am I right to bridge as follows on my board? (blue line):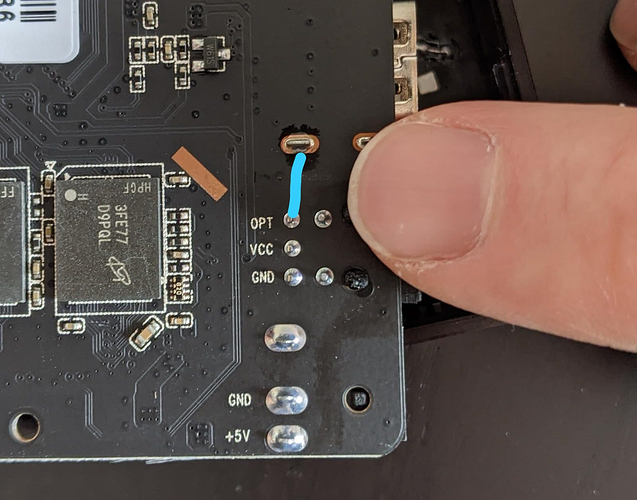 All this area and pin hdmi has connect com/ground, because its the same
Thanks for your response!

I am not sure I understand, what do you mean by "all this area"?
Did you solder directly onto the board? How is that possible?
Or did you scratch away a little bit of the isolation?
Yes, I scratched the isolation mask and soldered the place of soldering
Alright, thank you.

I will solder to the HDMI pin, once I get the resistor.
This seems to have done the trick on my X96 Air - 1k3 resistor between the LED and Ground pins on the TOSLink connector.
Many thanks !
Hello can you or somebody please describe this "common problem"?
Mine used to work after unplugging and reinserting the SPDIF cable but now my SPDIF port is not working at all.
Is this like what your problem was?
Yes, you need this upgrade/fix
I did this fix today and my x96max spdif works again


Thank you so much.
Another example of how it can be done, if anyone is interested.

The resistor is a bit large, but it works perfectly.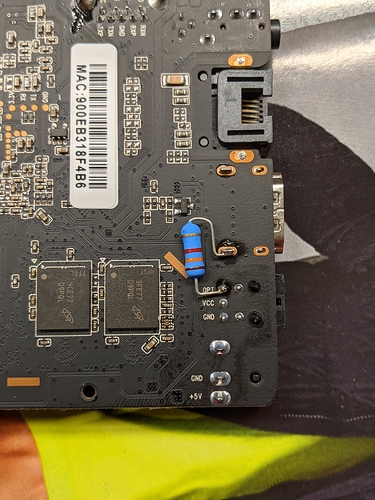 Because I don't have a suitable resistor, I used 4 resistors to make a 1.3k resistor (two in series and two in parallel)
Who remembers their resistor colour codes for electronics from years ago?
Why burden the brain when there are many mobile apps for this?

I just used two of 2.7K in parallel, which is a standard value,
This gives 1.35K instead of 1.3K, but it worked for me.