Please use this thread for general 9.2.1 discussion
Excuse me and my lack of knowledge, but what is a G12 device?
Those are devices with one of the following SoCs (covered by the Amlogic-ng images)
S905X2
S922X
A311D
fixed 4K OSD corruption for G12 devices (GUI scaling must be enabled).
From which part of the menu is this option enabled?
Scaling is now on by default.
The setting is in CoreELEC section.
So what happens if we are on nightly builds?. Can we choose to upgrade to latest stable and make a backup, or stay on nightly?
Thanks for the update and the great work of yours.
Is the Multichannel LPCM fix also included ?
I just read the release notes carefully and also found the info.
Thanks again!!
So now its gone to stable will it stay there?, or how do we continue nightly?
Nightlies will be on pause for a couple of weeks because we are in the process of moving to a new kernel to add support for S905D3/S905X3 devices, this kernel will be highly experimental for a period of time so this is why we have set nightlies to update to stable at this time so there is no inconvenience to users.
You are free to flash a nightly release again in the future when they start again.
That brilliant, ill stay here for a bit and make a SD also.
@anon88919003 what is green screen issue fixed? Picture artiffacts on interlaced videos? Or something else I haven't seen?
You will know if you are affected by this issue as the whole screen goes shades of screen.
Thanks for the update guys.
Where do I find the 4K GUI scaling toggle for G12 devices setting, after the update I have zoomed in GUI on my N2 running at 2160p.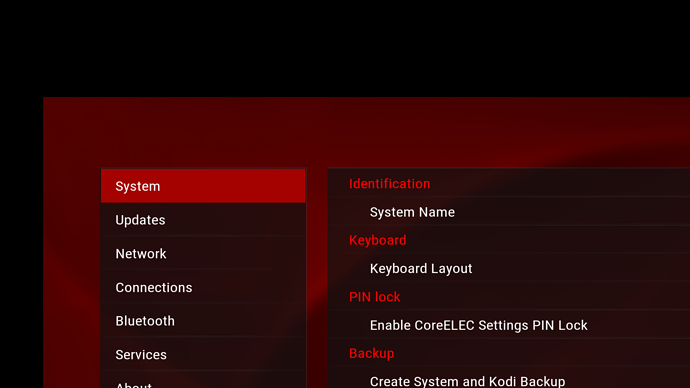 You need to reset your screen calibration.
The scaling option is available under Settings>System>CoreELEC.
Thanks @anon88919003, I'm a little confused about this so to have it as before the update, I have disabled GUI scaling and set the video calibration, does that sounds right?