This is paradoxal. A tool developed for Odroid N2 basically, it works on all kinds of other platforms, and it doesn't on my N2. I want to smash my head.
Fresh install of CE 9.2.2, dual booting on a emmc.Having all kinds of failures in attempt to boot the N2 with GPIO and remote, and when I run the command in SSH this is the result:
login as: root
root@192.168.1.226's password:
##############################################
# CoreELEC #
# https://coreelec.org #
##############################################
CoreELEC (official): 9.2.2 (Amlogic-ng.arm)
CoreELEC:~ # inject_bl301
Starting bootloader blob BL301 injection tool...

This tool can be used to update the bootloader
blob BL301 of the vendor bootloader on the internal
eMMC. This bootloader blob BL301 is customized by
Team CoreELEC to support all wake-up features like
CEC, Wake-On-LAN, IR, and GPIO wake-up from
suspend or power off state!

Device serial number: 290a400001081e000003383448564d50
Using CPU type G12B (29): S922X, A311D
System is not supported by BL301.bin injection: g12b_s922x_odroid_n2

CoreELEC:~ #

Trying to launch by GUI is not available. Only things I see in 9.2.2 are these,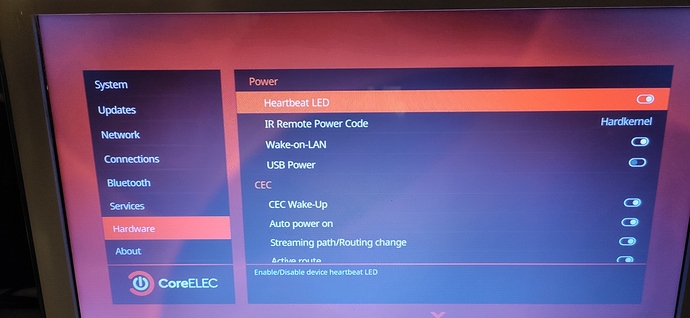 but nonetheless the boot from poweroff with GPIO and remote just doesn't go.
config.ini is ready and set, but the problem is what you're offering to fix, if the injection was compatible.
Ah, suspend doesn't work either. Related to this as well?
Do I have a unpatched system? Is it possible to patch it? Why G12B is not compatible?
Please, help. Please please please.