I will test it next week with your EDID on the Vertex2
You did not provide any log, only about the SSH issue. 4:2:0 does not work on any video format: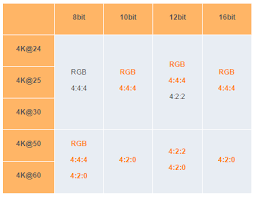 It's only for 4k@50/60Hz. So when you force it, it will be maybe not compatible with the format you using. That's why this setting is moved under 'expert' settings.
Is this a recent Amlogic change then? Because:-
a) 4:2:0 chroma has been the industry standard chroma since Blu-rays were first introduced, and chroma has nothing to do with video resolution.
b) That image is from the Intel website and is only talking about what chroma is supported by Intel graphics. If you had the full image:- https://www.intel.com/content/dam/support/us/en/images/mini-pcs/29357_image17.jpg
It says it's just the 4K formats that are supported, 1080p is also supported at 4:2:0 they just aren't listed in that table, because the table is only talking about 4K.
c) Before the update that introduced the the new setting, 4:2:0 chroma worked fine, I used it all the time.
Quick update, just installed the latest nightly 20221028 and now if if set chroma to 4:2:0 instead of getting no signal when playing video, the video plays with a purple hue. So clearly something has changed but the setting is still broken. Please let me know what logs you need, I'm guessing it's not something that would be in the Kodi log.
You misunderstood this, it was "force 4:2:2" only before. I added 4:2:0 and 4:4:4 because I wanted to give the option to users. Because of this I moved it to expert level as you can get black screen as result if you use wrong setting with wrong video format.
Before it was only 4:2:2:
Is your tv HDR10+ capable? Because in my case it reverts to HDR10+ and plays nicely.
Nope ! TV compatibility : HDR10, HLG, Dolby Vision
But hybrid HDR videos (HDR10+/DV) works on my VIM3. Could it be because it selects HDR10, while Nexus selects HDR10+ ? Can we put HDR10+ in the white zone ?
Yep, I know the old option was 4:2:2, prior to the new 4:2:0 option I was setting 4:2:0 using:-
echo '420,10bit' > /sys/class/amhdmitx/amhdmitx0/attr
Which worked fine, however now when I use the new option and
cat /sys/class/amhdmitx/amhdmitx0/attr
I get:- ,420, and it doesn't work.
Yes, because the handling is reworked and use now the origin hdmi_attr. this was disabled before.
The support of echo to this attribute is "dropped" as it never worked 100%. The "echo" did not really change something in kernel before as was too late applied. Such setting must be set on early driver init. And this is now done correctly and this is the reason you might get black screen.
Just leave it at auto, or maximum limit colour depth to 10bits. Do not touch colour sampling at all.
In automatic, I never have a black screen, but only this color bug on hybrid HDR videos. Is there a way to force HDR10 (Static) rather than HDR10+ ? How does Kodi work to choose videos with multiple metadata (HDR10+/DV) ?
no way right now I think. but type of hdr is choosen by kernel. I think it try first hdr10+, then hdr10 and than hdr. maybe there is some wrong in re-check with edid what the tv support.
post your result of the EDID parsing like:
CoreELEC:~ # cat /sys/class/amhdmitx/amhdmitx0/hdr_cap
HDR10Plus Supported: 1
HDR Static Metadata:
    Supported EOTF:
        Traditional SDR: 1
        Traditional HDR: 0
        SMPTE ST 2084: 1
        Hybrid Log-Gamma: 1
    Supported SMD type1: 1
    Luminance Data
        Max: 0
        Avg: 0
        Min: 0

HDR Dynamic Metadata:

colorimetry_data: 0

Read more carefully last post
No, post the result of:
cat /sys/class/amhdmitx/amhdmitx0/hdr_cap
Sorry, but How to run this command ? From Kodi directly ? On PC with a specific programm ? I need to have SSH access to CoreElec ?
Can I follow this? SFTP - Official Kodi Wiki
CoreELEC (official): 20.0-Nexus_nightly_20221029 (Amlogic-ne.arm)
CoreELEC:~ # cat /sys/class/amhdmitx/amhdmitx0/hdr_cap
HDR10Plus Supported: 0
HDR Static Metadata:
Supported EOTF:
Traditional SDR: 1
Traditional HDR: 0
SMPTE ST 2084: 1
Hybrid Log-Gamma: 1
Supported SMD type1: 1
Luminance Data
Max: 162
Avg: 190
Min: 6

HDR Dynamic Metadata:

colorimetry_data: 0
CoreELEC:~ #
@Betatester
Thanks !
Average (MaxFALL) higher than Maximum (MaxCLL)?
Maybe an issue with edid or edid-decoder?

Yes, what can i do to fix this ?
And why Traditional HDR = 0 ?
According to your log, you are running -ne (Khadas VIM4 20.0-Nexus_nightly_20221028)
This thread is 20.0 -ng, therefore this is the wrong thread for your issue. Keep it in the dedicated threads.
Maybe a Mod can do some roomservice, please?
Context matters. Portisch was replying to your network issues, and asked just for cross-check, not to change thread.