Yes the Generic NG is correct.
Yes, that's it.
Now burn that image to a sd/usb with rufus, and take the correct dtb from the device trees folder.
Put it on root folder and rename it to dtb.img
With nigthly buil 20200108
the temperature of the x96 air (s905x3) has dropped 10-12º. Thx, great work.
Anybody knows what speed can work the slot of microsd in an TvBox?
That's the same issue I mentioned earlier in the thread. It's like the auto conversion of AAC to PCM doesn't work when HDMI is selected. When I changed it to PCM everything worked, but my two other boxes don't exhibit this behaviour on the stable build.
Hi guys , I'm very please with the latest nightly on my gt king and right now for my use I'm not find any playback and/or other issue .
The only strange thing is that It seems the auto update prompt does not show anymore , I'm on 03/01 nightly and even using custom channel I can't find the new nightlies , am I missing something ?
Thanks
Cool thanks!
But I don't understand why in the last night build I don't find support for S905X3, or I can't find the correct dtb for S905X3 4Gb 1Gbit anymore (filename sm1_s905x3_4g_1gbit).
Did you download the amlogic-ng build? Since if you did download the right build that dtb file should be there.
Unfortunately if you downloaded the 20200110 build there is no right option since there was a technical issue that prevented the amlogic-ng build from compiling last night. so the build I linked to is the newest available build to support your device.
I just tried the 20200108 build and my multi-channel audio issue is fixed, unfortunately the display is like this: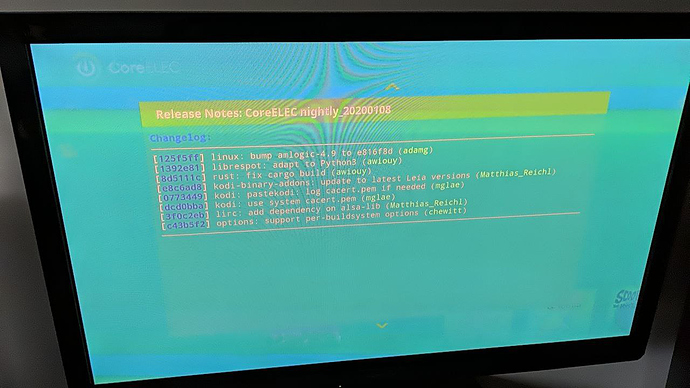 Is this a known issue? I couldn't find anything that would fix this.
I refer to the slot itself. How fast can stand it?
It's a known issue.
Go to Settings > CoreELEC > Hardware
and toggle the use_yuv_to_rgb setting. then reboot.
Can i force kodi to convert hdr to sdr. I want to try something on my 65ru7402 and my s912 box
Yes, in Settings → System → CoreELEC you can select the HDR-to-SDR mode (it's set to "Automatic" by default) and the reverse.
In my experience it's still much worse than plain SDR, even if better than without the conversion.
Like i say i have s912 box not ng and i dont have that option