This topic is about support for connecting DVB tuner to Odroid N2 Expansion Connector
https://wiki.odroid.com/odroid-n2/hardware/expansion_connectors
I choose three variants:
Mecool K-series internal DVB tuner
Wetek WP2 internal DVB tuners
Khadas VTV board
Mecool uses in K-series dettachable internal DVB modul supporting DVB-S2/T2/C. Following picture shows my first testing setup.

For first test I used NiMH accu to provide 1.2V power, now I replaced it with 1.2V voltage regulator (AMS1117 1.2V).
This board need 1.2V, 3.3V, 5V and 12V. On Odroid 40 pins expansion connector is only 3.3V and 5V. For 12V I soldered wire direct to power connector and for 1.2V I used AMS1117 1.2V voltage regulator connected to 3.3V pin. Following diagram shows wiring.
For safety doublecheck power connection, otherwise you can damage Odroid N2 power circuits.
Second board is WP2 removable dvb tuner.

The connection is very similar to Mecool K-Series dvb tuner, only little bit dfferent wiring.
Pin numbering: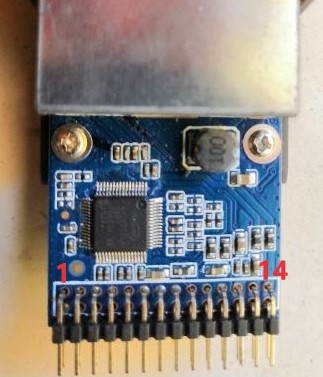 I tested only DVB-S/S2. The DVB-T2/C should be also working.
The last option and I think the best is Khadas VTV extension board.

For 40 bucks you receive DVB board with RC and own power supply. As a bonus on VTV board is optical SPDIF connector, you need only connect one extra wire.
Board is connected to Odroid N2 only with 7 wires, you don't care about power connection as the board has own power supply.
Boards are supported in the latest nightly CE builds for Odroid N2 in dvb drivers addons (crazycat or dvb-latest), you need also use right dtb (g12b_a311d_odroid_n2_dvb.dtb).