So i was just about spot on then.
Shoog
Yeah, good guessing

. Now I'm curious how much it will be on pollin.de.
Given the fact that the CE team are putting their full weight behind the N2 and that it comes out of the box with mainline support - I would definitely be waiting for the N2 over any S912 box.
The S912 arrived with intrinsic design flaws (no drivers and thermal issues which meant that AMLogic lied about its clock speed and throttled it back to 1.5ghz) which have not gone away. There are just to many advantages to the N2 to seriously consider going with a S912. Its going to kill the market for VIM2's in a shot.
Shoog
Thanks for quick feedback @Shoog.
Yes, I have read a lot of the negative feedback of S912. Even though I am really happy with my Minix U9-H, I am looking for a box that better support you guys (and in the end, me). I hope the S922 will be acknowledge widely on the market and by the users too.
I don't experience any performance issues currently, but I would prefer a stable platform from a maintenance point of view. I guess I will bide my time and see where this is going!
I think it comes as a surprise!

I can't even put it into words how good the Hardkernel ODROID-N2 is and I'm sure the rest of the team will agree with me.
The GUI is like nothing I have ever seen on any SBC/STB, it's like using Kodi on x86, the response is incredible, animations are swift and smooth.
Temperatures after 2 hours of abuse? 36c
CPU on idle? <2%
Don't take my word for it.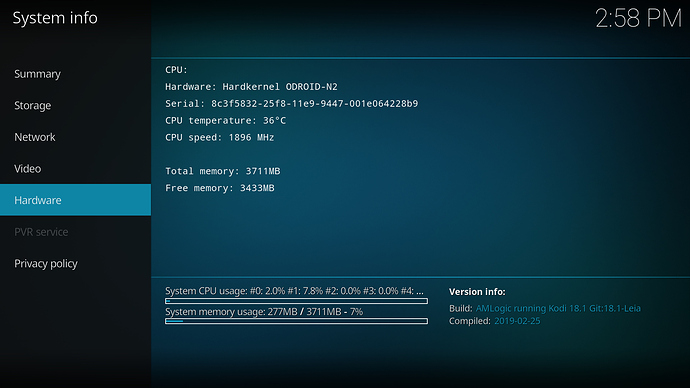 We still have some issues but each day we fix something new, honestly this board will make anybody cream in their pants.

Just discovered that I won $100.00 from the Khadas team as a result of following that link to the Khadas forum. Now what to buy ?
Shoog
@shoog Ask them for the cash value so it can be spent on an N2

I was thinking that myself !!
I must say that the VIM2 has been great for me, it runs well and is well built with top quality components. However the packaged case was a joke, and the lack of a cooling solution out of the box was a real bottleneck. The only issue I have had is their really poor aftercare. They basically did almost nothing to get Linux support for their vTV card. They also showed no inclination to try to get any meaningful Linux support for their boards. Only the work done by the CE team has saved it from been a disappointing purchase.
Shoog
Not to shame them but we have had our own difficulties with Khadas.
On the other hand we have a great relationship with both LibreComputer and Hardkernel who continually support projects like ours.

I don't think S922x will work that fast with mainline.
Will the coreelec team be supporting other S922X devices such as cheap android tv boxes from mecool, beelink etc (assuming they make them). Would the only thing needed to support those be different wifi/bluetooth drivers?
We haven't made a decision regarding other devices yet, that is discussion for another thread though.
I wonder if there will be any DVB-S2 or DVB-T tuners available for N2 or will you have to use the SAT>IP or other external tuners to have it working.
already happening upfront - just based on the expectation

At least there should not be a reason why it shouldn't work. S922X will be using our unified platform. So if you can get a dtb it might work.
Dunno if we will be able to support issues we can't test on our own devices.
Now we have at least someone at the team who got a Mecool (like afl1).
There is discussion to remove KVIM(2) image because we can't test uboot changes. But vim users will still be able to use the generic builds.
I just told my wife what this board can do.
She asked , "What good is that to me"
I told her I'll ask adam.
Would be great if you could negotiate a special price for a large group buy for coreelec forum members

Odroid have made a wise choice in getting ahead of the game by supplying the devs with devices.
Might be better if users suggest directly to Odroid a potential advantage of perhaps giving known CE users a chance for an early purchase because the feedback from development is a win/win for all parties.