No, never.
S912 is no longer in development
This behaviour is to be expected. Your box is not compatible with CE 19 Matrix due to bootloader being too old, Android 6.x would be my guess. You can try an android custom rom to elevate bootloader to recommended 7.1.x or stick to CoreElec 9.2.x.
After trying on x88king i must write: the best temperature of box was on ver 19.0 (40 celzium degree), after on 19r2 was some higher (44 celzium degree) and now on 19rc4 is 46 celzium degree during of same iptv watching. Something is bad.
Whilst you may have seen an increase in temps, 46C is still very good indeed.
My N2 4GB has cec problem with latest builds. It wakes up my TV in unpredicatable moments. Journalctl does not show anything, box does not reboot. Anyone saw this feature on his box?
No log, no problem…
Disable active route:
Try clean install and check also with a clean install with Kodi Windows or Linux if this is a kodi or CE issue, thank you.
I see lots of commits going to be integrated soon. Looks promising
In your setup, visible the cache progress?
Airplay not work in this version coreelec
Clean instal, CE 19 RC4 same result. Windows kodi 19 No problem, see in the picture.
So, video cache not visible, thats CE bug not a kodi bug.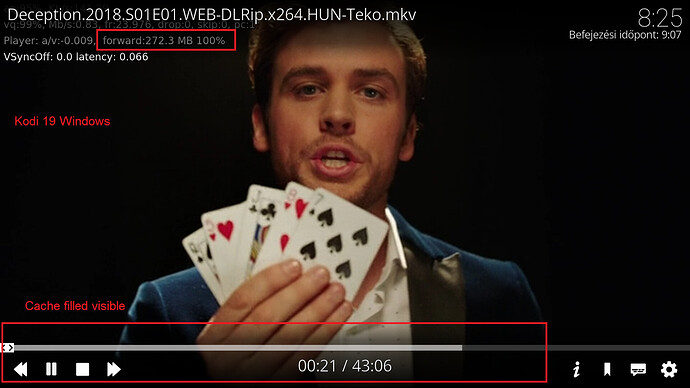 Please share your advancedsettings.xml for testing. When I get time I will take a look.
I have tested in Adroid Kodi 19 Shield tv, with same advancedsettings there is the video cache Mb and the progress bar working too…Just in the CE system not.
Hi,
There is ongoing development of Xonfluence skin for Matrix.
It has been detected that AMLogic information that should be displayed is not appearing because it is missing script.amlogic.displayinfo
This is the very first line in DialogPlayerProcessInfo.xml:
<onload condition="System.HasAddon(script.amlogic.displayinfo)">RunScript(script.amlogic.displayinfo)</onload>

But there is no CoreELEC Display Info add-on in CoreELEC 19.0 repository as opposite to CoreELEC 18.9 where that add-on can be found in CoreELEC Addon-ons repository under Program add-ons section
Any suggestion how in different way to detect in DialogPlayerProcessInfo.xml that the platform is AMLogic?
Script has been removed and now the values are directly available from Kodi.
Look here:
Hi. I've upgraded to latest coreelec (19.1_rc4) and now I'm experiencing strange problems while watching iptv. Picture will freeze from time to time while sound is still playing OK. After few seconds video is unfreezed and is played with 2x speed. I thought it may be related to slow connection, but I've tested with various other players and it is defenitely related to how video is played on coreelec. Also there was no such problems before 19.x versions.
Hello.
I don't know if it's a proper topic.
I have problem with wi-fi after wake-up. Have no idea what to do. My wi-fi just not connecting after wake-up. I enabled bl301, but no luck. Nothing changed. The solution for connecting wi-fi after wake-up is reboot… Can anyone help me?
Device: Beelink GT-King
CE 19.1-rc4