I don't know what the problem is with this specific file, but have you tried it on other Kodi platforms?
I didn't had problem with C2 before playing those anime. I'll try tonight to plug back my C2.
Using latest nightly 20191022 I have issues with the remote while playing any kind of video files. It either has delay when pressing button or no interaction at all from the remote.
The worst situation is when playing 10 bit 4k hdr. The remote stops working at all and I have to plug a usb mouse/keyboard to be able to interact with the device.
With the previous nightly everything was ok in terms of remote.
Device : X96 MAX 4/32
Hallo,
A95X MAX S905X2 Lan ok
no wifi no Bluetooth
ext wlan realtek works ok
bitte um treiber für wlan in der Nightly Coreelec
MFG
You have the second generation board where there is no open source driver for the WiFi/BT module, so you will require an external USB dongle.
Thanks to a user's contribution, we now have LPCM support in the 4.9 kernel (Amlogic-ng). Everything has been pushed, and should be available in the next nightly build. (20190929) We were able to test it on Odroid N2 and Beelink GT-King. We have not tested it on S905X2 devices, but it should work. Please report any issues with this new feature. Configuration: Disable the Enable Dolby Digital (AC3) transcoding option under Audio Passthrough Select the HDMI Multi Ch PCM option in Audio output…
GT King with 905P0 and nightly from 23.10.
7.1 PCM with HDMI Passthrough works damned good.


You Guys make a good job, thank you.
I tried multi-channel PCM again on a S905X2 box (TR99X2), but I never get more than 2 PCM channels on the AC receiver (passthrough is fine) and the sound is very distorted and low volume.
Let me know please if there's anything else I can try.
Did you select the correct audio output device?
I have the exact same problem here on a 2/16 x96max. Passthrough is fine, but multi is super distorted and AVR reports only 2 incoming channels.
I'm betting the farm on dtb issues with some of the newer clone boxes coming out now.
Here's mine extracted from android if anyone is interested. dtb.img
We don't need the DTB. You need to select the correct audio output device in Kodi settings.
You need to use nightly build and settings like on picture from this post:

why do you want to send pcm to your receiver, if the hdmi passthrugh works - or can your av receiver not handle compressed hd audio formats?
There are formats that can't be bitstreamed, such as AAC.
I assume you mean HDMI Multi? If so, yes that is the setting I'm using.
…and I'm on current Nightlies for the last couple of weeks. 20191023 at the moment.
x96max 2/16 into Denon 2313ci AVR
Test file LPCM 5.1 from Kodi wiki - LPCM 5.1 - POCAWE_Sample.mkv
Debug log - http://ix.io/1ZPk
dispinfo -http://ix.io/1ZPj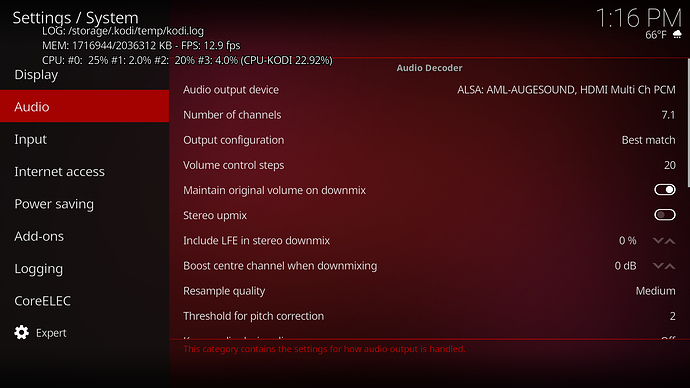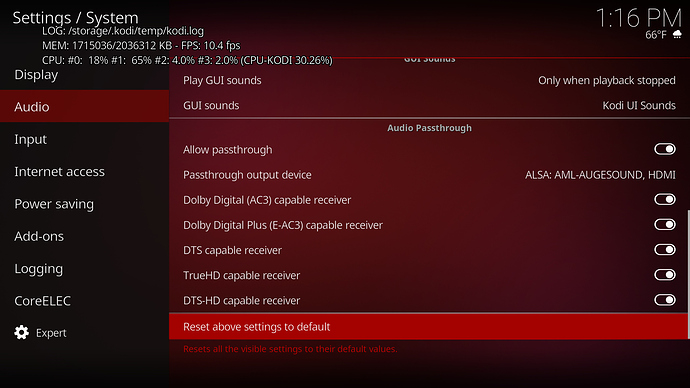 make a screenshots of full audio settings and link on output of dispinfo while playing video with problematic audio
Have similar behavior but with 9.2 Amlogic. Didn't run any other versions though.
Anyone else with this problem?

in my understanding, "hdmi multi ch pcm" must be set only if the sound format can not be decoded by the av receiver. I have only set "hdmi", and my av receiver (denon) recognizes and decodes all hd sound formats, including truehd dolby atmos, dts-master, e-ac3 dolby digital.
@Jaaxx
It's strange… audio source: SPDIF and audio channel num: 2 channels
Could you try to change in Audio passthrough devices to SPDIF and back to HDMI and try again?
If still issue then try to clean install on different usb/sd card latest nightly, configure audio part and try this file to exclude some of your kodi config/addons settings.
@catshome
hdmi multi ch pcm is hdmi + multi pcm support
all other formats like dts and etc… will be working as before if selected for passthrough
I have been running nightlies on my N2 for testing purposes, but would like to move it into production now. Can I downgrade to the latest stable 9.2 build via the usual upgrade procedure or do I have to reinstall from scratch?