Which one should I buy ODROID N2 or new version Khadas VIM2 Live TV?
You are in the topic where everyone says that the Odroid N2 and superior in many requirements
So forget khadas friend and come for the best!
I ordered the Khadas VIM2, the seller did not send it and returned my money but I bought a khadas dvb s2 tuner 20$.
Wait @afl1 the same will tell if it is possible to use your dvb card in OndroiN2
I will not give buying recommendations. Personally I love the N2. Vim2 is S912 which will always be hacky because of the missing mali blob.
Afl1 said he wants to make the vim2 tuner work with the N2.
The VIM2 represents less (product) for more (money).
Shoog
Hmm
This is very interesting. Is it possible to connect hardwarely this tuner to N2 device?
Looks like it can be worn
There is sd card slot but you have to buy everything else. Case, Power supply, sd card. With shipping, customs and accessories, this will be close to $150 for most people. So, it is not worth it if you're happy with your Chinese box.
With coreelec, my s912 cheap Chinese box performs much better than odroid c2 and it cost half the "all in" price of the c2. Coreelec has made investing into these development boards not worth it if you are only interested in a media player. I don't use live TV so I don't know if there is a benefit to using these boards in that use case scenario.
I asked odroid forum. and dont support 40 pin gpio ts pinout odroidn2 but may be orientation by dts (kernel modification) some gpio pin.
I want to know k1 plus tuner pinmux pinout and any puplic data sheet. may be we add secon tuner k1 (I have two k1 (old) tuner. shold be it posibble like twin vtv tuner.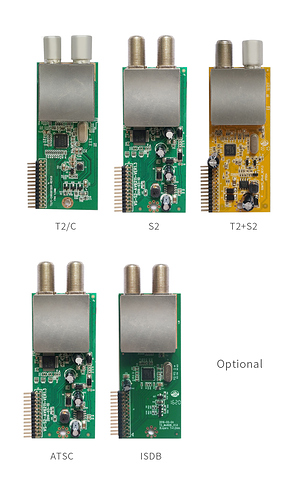 vitmod vital add k1 vfd display .know some pinout connecting board
@Harold you can look at the Odroid distributors page and it has all European distributors listed.
Posts like yours really do make me laugh because I find it quite ironic how people are prepared to spend $1000+ on a TV, $500+ on AV equipment and yet can't stomach spending the equivalent cost of 3-4 Blurays on a half decent media player.
Quality always comes at a premium but we are not talking hundreds of $$$ here, we are talking about the difference between $30 and $60, which is pocket change really, if you want to be a cheap skate that is okay but good luck with that exotic wifi/bluetooth, fake RAM and the onboard memory that you can't use.
You post replies on a topic that is totally irrelevant for your current use.
So what are you doing here ??
There are other platforms you can go to if you need to troll.
Google Twitter.
Excellent place to pick an argument.
Haha. Substandard junk! It is quite ironic that your official download page has a list of 100s of such substandard junk. Your post is extremely rude to users who made you what you are that hardkernel invested in you.
@anon99744683 the total number of devices is less than 100 so that is an exaggeration to say the least.
I don't see how my post is rude? it is the truth, some examples…
https://discourse.coreelec.org/t/mecool-m8s-plus-w-installtointernal-not-working
http://www.bee-link.com/forum.php?mod=viewthread&tid=39130
https://discourse.coreelec.org/t/cec-wake-up-amlogic-s912-device
These poor quality junk devices that are sold on the market has led to a huge support burden for everybody involved with CoreELEC, every day we assist people with various issues as a result of the corners cut by these scrupulous Chinese companies, that will stop at nothing just to make a quick buck.
My opinions are not the opinions of CoreELEC or the team, but if you are offended by them then that is your problem, I think there is far bigger issues to be concerned over than someone calling your $30 purchase junk or questioning the fact that someone can not justify spending just an extra few $$ to get a quality media player to match their high end TV.
Since I have received an N2 it has opened my eyes to how poor Kodi actually runs on S905/S912, it costs the same price as 2 Chinese devices and if you ever decide to get one you will see the difference in that they are worlds apart and maybe then you will see why I call them junk now, it's not about being arrogant or rude, it's just the plain and simple truth.
Cheap S912 boxes work because we constantly keep improving a hack that should never had worked. I don't think a S912 is any better than a C2 (if you don't need HDR).
But I ask anyone here to calm down. This is not an advertisement post. We are happy to work on the N2 but everyone can stay on their S912 noname box I really do not care. I also understand that some are willing to spend more while others want a box for $5.
Now please back to topic.
I'il go back to the subject.For me live tv is important the device with dvs2 for him will be my choice.I'll wait for Odroid N2 or khadas VIM2-3.
@DVB users: why you don't upgrade to SAT>IP?
I have running the Digibit R1 SAT>IP server running in the cellar and every device in the network can get the DVB stream. I had this issue 5 years ago to find mediaplayers supporting DVB-S2. Now I can use every hardware player, tablet, mobile device,…!