@KyleSSS I believe the instructions your looking for are here

Do you have any idea when the stable version of Matrix will be released?
Nightly is same as stable, only the name differ.
Kodi Matrix stable is out. Should we expect Coreelec 19 stable soon?
Well, in stable many of plugs became out of date. In nigtlies CE Matrix all were working well. Seems stable 9.2.6 is not Matrix?
To by mě taky zajímalo

It's a shame S912 won't be supported. My Minix U9H was stuck on Kodi 17 for years after Kodi 18 was released because all my devices share a centralised database and I had a box using Kodi 17 for DSPlayer. A few months ago I no longer needed DSPlayer so I could finally upgrade my Minix U9H to Kodi 18, along with my new ODroid N2+. Now I can't upgrade the Minix to Kodi 19, which means my ODroid will be stuck using an older version of Kodi for years too.

The users were told S912 support is a hack and only supported by Kernel 3.14. It would require just to high number of development hours to port the hack to 4.9 Kernel. Maybe someone will find this needed time and will do a PR to CoreELEC, thank you!
Amlogic do have now 3 newer SoC versions (S905X2, S905X3, S922X) and the 4th is currently released (S905X4). Number 5th S908X is also already known but without release date…
Tanix TX5Pro(s905x) reboots every time I try to pay a 4k HDR video.
Anybody have the same problem?
will the S905x support Kodi 19?
Matrix is supported in S905x
Do you have kodi reboot or full box reboot?
And how much memory does your box have?

Full box reboot. 2BG RAM. 1080P Resolution.
The same video in SDR plays fine.
I will collect logs and cut out a small piece of that HEVC HDR video for tests later on.
@Portisch @cdu13a
CoreELEC Module drivers is broken using the most recent commit: c523e2169e4dc5c9b93f7ee1582079e0bda8b873
Therefore Tvheadend HTSP Client: No free adapter available.
It does not recognize any tuner.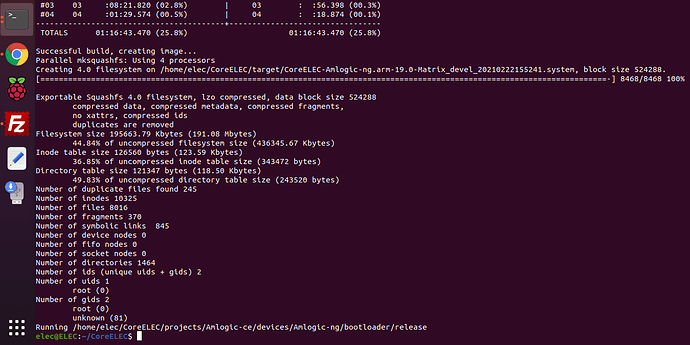 I moved out crazycat/dvb-latest from the image.
So with tomorrow nightly 20210223 all DVB user must install the preferred DVB modules from CE repo to be able to use it again.
@otava5 Matrix has been tested and runs successfully on NexBox A95X-B7N (S905X 1/8/100).
This configuration is the absolute minimum for CE Matrix.
Ditched the database and use Jellyfin as your backend. Then you can use different versions of Kodi per device without issue.
does it work with KVIM3 ?