This topic as been created to X96Air_P2 version but some users reported this guide works on P3 version too - Read here
Maybe can work in other Pxxx version, IDK…
As far as I know, there are three Options for X96 Air:
2GB+16GB+2.4G Wi-Fi+LNA 100 M (No Bluetooth)
4GB+32GB+2.4&5.8G Dual Wi-Fi+BT4.1+LNA 1000 M
4GB+64GB+2.4&5.8G Dual Wi-Fi+BT4.1+LNA 1000 M
Mine is 4GB+32GB+2.4&5.8G Dual Wi-Fi+BT4.1+LNA 1000 M, with original Android firmware: X96Air_P2_20191017-1917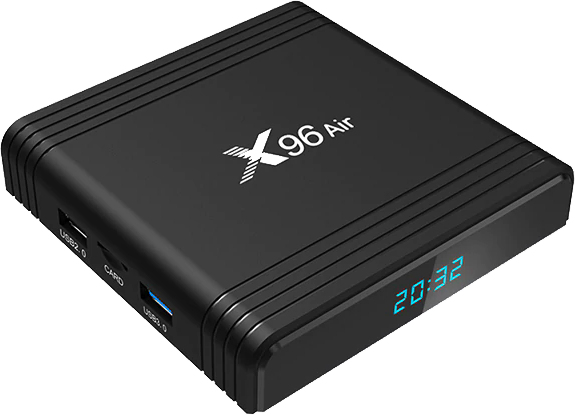 I decide to create this topic to help other users to general config.
Just compiled all information I get in this forum, so all the credits go to CoreElec team and other members of this forum.
My thanks for that!
As you know CoreElec builds now support the new Amlogic soc S905x3.
So lets start to that.
Where's reset button?
Inside AV hole there's a switch. Use a toothpick or needle to press him.
Thanks @Fernando for the picture


What DTB i choose?
sm1_s905x3_4g_1gbit.dtb
How to configure remote? (My remote it's the same of the picture)



There are two ways to configure remote control: meson-ir and amremote (See the difference between them here!)
Note: Most of users, inclued me, report amremote works better its more responsive.
The remote don't turn on box.
If you own an Amlogic device that have issues with wake-up features like IR remote wake-up, CEC or WOL wake-up then you can use this tool to fix those issues.
You need to inject BL301
[My config config.ini (5.6 KB)]
VFD
read careful here how to.
You will need this file (Download raw format file - Just go to the link and save as) and the OpenVFD addon
How maximize LAN speed and fixing buffering problems?
Use LAN cable connected directly to the router on gigabit port.
Use NFS instead SAMBA shares
Use advancedsettings.xml to boost cache fill (Mine is using 500MB to do that) advancedsettings.xml (239 Bytes)
To see other examples or understand read here
Recommend settings for Kodi
Remote Acess
Install Amlogic-VNC add-on in CoreElec Repository → Services → Amlogic-VNC
Sometimes when change source on tv the box poweron
Turn off Active route

Original Stock Firmware for P1, P2, P3 & P4
Download here